First day at liberty: Saakashvili complained about the surveillance and told how to pay expensive penthouse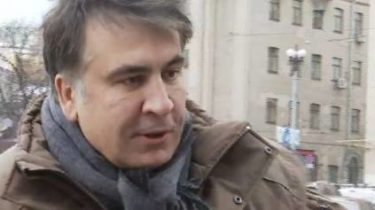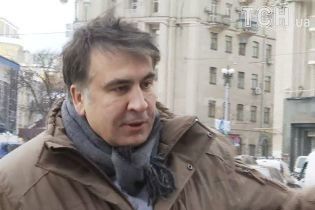 The ex-President of Georgia Mikheil Saakashvili on the first day of freedom after a few days in the detention center for a long time slept. He admitted to the correspondent of TSN.
Today he came out of his penthouse at the Church about an hour of the day. Saw the TSN camera and, despite the driver in the car that was waiting for him in the cabin, decided to walk to his office. It is located in the kilometer. Talking with TSN, Saakashvili has come all this way without a car.
My driver Vladimir who was killed. And this now takes my wife – she has her own things, their own meetings. So I asked him to take my wife."
– Let's talk about your fleet. Under the house left standing "Skoda", where you drive and SUV.
– Shkoda – my own car. I bought it three years ago, I think, over 11 thousand dollars. The machine is not new. And I can afford it.
Videosu summoned Saakashvili for questioning
TSN. 16:45
12 Dec, 17:16
Facebook

VKontakte

Google+

Twitter

Viber
In the morning went Saakashvili ally David Sakvarelidze, and subsequently a lawyer. Near the house is staffed by two taciturn activists. During the attempts by our journalists to learn from them, not whether Saakashvili, suddenly appeared another man, who was aggressive and was not allowed to remove. Then sat in the car, which usually goes the politician himself or his wife. Saakashvili says it all – his support from the camp, not security guards.
– From last night under your house are the two men – thought you guarded. Who are they?
– It was yesterday people, when I came home. I was very impressed. Because I was tired and wanted a little warmth.
– So they are still there. When you came out of the door past them passed.
They from the camp. Yesterday when they followed me, I asked them who they are. But they said, we have, well, not guarded, but want to make sure that you normally got. They've brought me to. And I don't know, they left, others came. But the fact that the people on duty – so recently begun.
– Is it free?
– Of course.
Fasting Saakashvili stopped. And the first thing we ate, says was Ukrainian borscht from cafe. The politician assured that walking often, but I am sure that he was being watched by the special services.
Yesterday in court, prosecutors said that it is dangerous for you to go to one.
– I very often walk around, if anyone knows. I demonstrate that it is dangerous is that journalists can attack. But, look, some sbushnik worth it. Why is he here?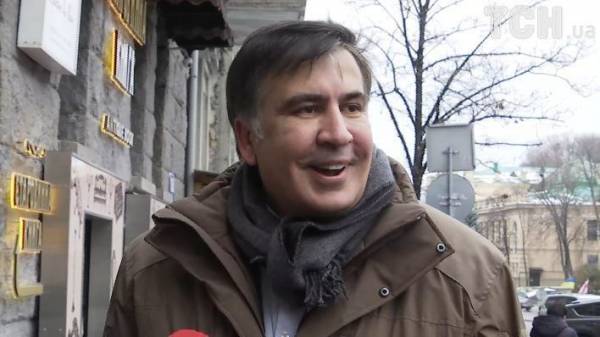 Dnia
Saakashvili walked to the office
– A man smokes.
– I don't think he looks like a guy that just smokes.
But it may not have any relation to you.
– Maybe not, but I think Yes.
From the penthouse to the Church Saakashvili took out the riot police during a detention, there he would return if the court has satisfied the petition of Prosecutor on measure of restraint in the form of house arrest. Where is the money to rent expensive housing – Saakashvili explained to the journalist.
– About your apartment at 252 squares where you currently live. Your neighbors say that you rent it for several years. Where do you get so much money? You can already buy your own.
– The absolute lie that they say that six thousand dollars a month. I pay only for communal and minimal things. And there is a technical exchange between my friends who support me and by the owner.
– What is the technical exchange of apartment?
They were given an apartment abroad, I understand. That is, I pay my part, but certainly it's not six thousand.
Videosgallery, were detained in a rented penthouse, the rental price of which is about six thousand dollars
TSN. 19:30
5 Dec, 19:56
Facebook

1

VKontakte

Google+

Twitter

Viber
– And how much? Half? Three thousand dollars a month?
– How much is my business. I have no more homes, and the choir, and palaces. And my dream is to own your own little house in Kiev. But so far, that it is not.
– The New year will buy?
– Something to buy- I now have exactly no money. I have no money now. Because you have to pay for lawyers. They are good boys and girls. Something I continue to pay for this apartment.
The same politician speaks about the financing of the tent city and organizing meetings – all thanks to volunteers, friends and caring.
– Sunday on the Maidan arranged the scene. Was expensive cars with loudspeakers. Who gives the money for all this? How much is it costing you one similar action?
– We are funding. In addition, there are thousands of Ukrainian small and medium businessmen who give money. Of course, I need to live, fill petrol and drive. Of course, it costs money. Give them to me. But it is certainly not the money of the oligarchs and not the FSB. People who want to help. Someone gives $ 500, and someone a thousand.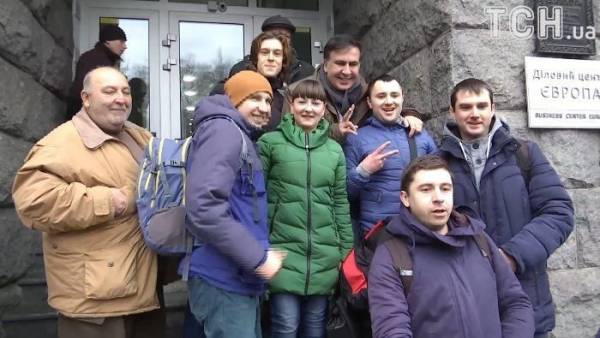 Dnia
On the threshold of the office, Saakashvili was photographed with fans
In office, Saakashvili, as he claims, will meet with foreign diplomats and media communication. And in the nearest plans, except for work, is a celebration of the anniversary.
– How will you spend your weekend?
– I have a birthday coming up. Want family spend. 21 Dec. 50.
– Where will you be celebrating?
– Maybe somebody would like to I was celebrating in the Maldives, but I will be in Kiev.
So who will you celebrate the anniversary?
– With the family. My son is coming, I hope. Will be a mother too. The wife, of course.
The correspondent TSN Valentine Mudryk
Saakashvili
penthouse
Mudrik
Saw a bug — Ctrl+Enter
Letter to the editor
© Materials
TSN
Leave your comment
Leave your comment
All comments
Always
deployed
Editor's choice
Comments
comments