American actor for the sake of drawing did look like he wants to pull down Obama's pants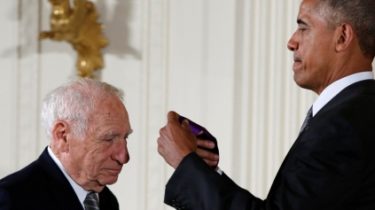 American actor for the sake of drawing did look like he wants to pull down Obama's pants
© Reuters
Mel Brooks decided to have some fun while getting medals from the President.
90-year-old American actor, Director and screenwriter Mel Brooks decided to make fun of U.S. President Barack Obama.
When the head of state awarded him a medal, he did look like he wants to pull down Obama's pants. Present, and the President responded with a laugh. The actor applauded for a long time. About it reports ABC News.
The White house Brooks was awarded the National medal of arts and Humanities.
Pres. 2015 Obama awards the National Medal of Arts to Mel Brooks "for a lifetime of making the world laugh." https://t.co/bGsVe1NLg6
— ABC News (@ABC) September 22, 2016.
Comments
comments