Ex-Premier Azarov again left without Ukrainian pensions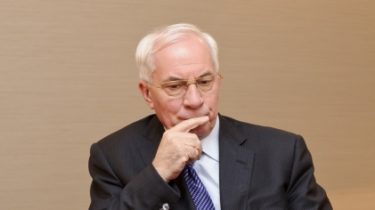 Ex-Premier Azarov again left without Ukrainian pensions
© Getty Images
The decision was made by the Kyiv court of Appeals.
Kyiv appeal administrative court overturned the decision of the Podolsk district court of the capital on the resumption of payment of pensions Mykola Azarov. The district court's decision was appealed by the Pension Fund of Ukraine.
This was announced on his page in Facebook the Minister of social policy Pavlo Rozenko.
The Minister noted that this step reaffirmed the position "on the impossibility of resumption of pension payments to Yanukovych, Azarov, Pshonka and other "leaders" of the time".
"Despite the decision of the court epic with pension payments to officials of Yanukovych's regime will continue in the courts and beyond. So followed. Follow the news," wrote the Minister.
It is known that Rozenko reported, Podolsky district court of Kyiv obliged the Pension Fund to restore the accrual and payment of pensions of ex-Prime Minister Mykola Azarov.
In January , the court froze the pensions of former President Viktor Yanukovych and former Prime Minister Mykola Azarov on current accounts in Oshchadbank. As found by the investigators, Yanukovych and Azarov, in collusion with the Chairperson of the State special communication service, the Minister of Finance, member of the Supervisory Board of "Ukrtelecom", the Director of open company "ESU", November 2013 organized at the expense of the state budget the construction of telecommunication networks of special purpose, which was entrusted to LLC "ESU". As a result of this fraud Ukraine has missed 220 million state hryvnias. Besides, it became known that the former Prime Minister of Ukraine Azarov was on the account in management of the Pension Fund of Ukraine from February 6, 2008 and received a pension of $ 17,253 thousand. In turn, Yanukovych since July 10, 2010 accrued pension in the amount of 16,947 thousand.
We will remind, in Russia Mykola Azarov wrote in the experts in the Ukrainian language. TSN.ia remembered the most vivid statements "azarivka":
Comments
comments