In Russia the driver accidentally drowned a truck filled with copper pipes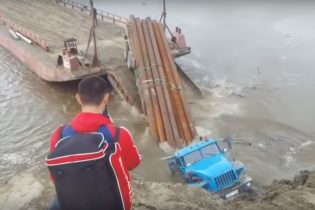 In Russia the driver accidentally drowned a truck filled with copper pipes
© YouTube
The driver of the truck tried to go on the ferry.
In the Internet appeared the video, where a truck driver accidentally dumped his vehicle. About it reports Sploid.
The driver of the truck filled with pipes made of copper, tried to go on the ferry. However, due to unspecified reasons, the ferry started to sail when the car managed to drive only two wheels.
So, a minute later the truck completely went under water and disappeared with the shipment. Fortunately, the driver of the vehicle managed to jump out of the car.
Note, the video was filmed in Russia. In the Network for a few days it was viewed over 190 million times.
We will remind, earlier in a Network, users went crazy with videos of the triple helix, which drops and creates patterns. In two days the video attracted more than 2 million views.
Comments
comments