Moscow will finally allow the Ukrainian Consul to the captured journalist Sushchenko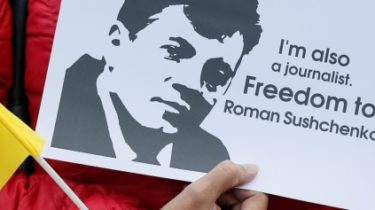 Moscow will finally allow the Ukrainian Consul to the captured journalist Sushchenko
© Reuters
He will be able to get to him just this Friday.
The lawyer of the detainee in Moscow, Ukrainian journalist Roman Sushchenko mark Feigin today will visit his client in jail.
This he told TSN via telephone.
See also: Characters of the materials Sushchenko came to his defense in Paris
But the Ukrainian Consul Gennady brasileno, according to the defender, can get to the prisoner only this Friday. Details of this meeting have already been agreed.
We will remind, on Monday, 3 October, information appeared about the arrest of Roman Sushchenko Lefortovo court for 2 months. Russian security forces claim that Sushchenko "purposefully collected data, which constitute state secret, the activities of the Armed forces and National guard, the leak of which abroad could harm the defense of the state". Against the Ukrainian opened a criminal case on charges of espionage, are investigating. Roman Sushchenko in jail "Lefortovo" has found members of the Public oversight Commission (POC) of Moscow. 47-year-old journalist was in the chamber of the quarantine Department.
The journalist told members of the POC that he was put under psychological pressure, and the investigator was not allowed to call and tell his wife about the arrest. The FSB has provided him with a state attorney. The former lawyer was released from Russian captivity of the people's Deputy of Hope Savchenko mark Feigin decided to help Sushchenko and become his protector.
Comments
comments