The Klitschko brothers have arranged training on the new treadmill in Kiev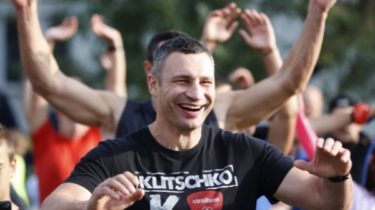 The Klitschko brothers have arranged training on the new treadmill in Kiev
Kiev
1 Oct, 16:47
1 of 17

The Klitschko brothers at the morning exercises
© UNIAN

1 of 17

The Klitschko brothers at the morning exercises
© UNIAN

1 of 17

The Klitschko brothers at the morning exercises
© UNIAN

1 of 17

The Klitschko brothers at the morning exercises
© UNIAN

1 of 17

The Klitschko brothers at the morning exercises
© UNIAN

1 of 17

The Klitschko brothers at the morning exercises
© UNIAN

1 of 17

The Klitschko brothers at the morning exercises
© UNIAN

1 of 17

The Klitschko brothers at the morning exercises
© UNIAN

1 of 17

The Klitschko brothers at the morning exercises
© UNIAN

1 of 17

The Klitschko brothers at the morning exercises
© UNIAN

1 of 17

The Klitschko brothers at the morning exercises
© UNIAN

1 of 17

The Klitschko brothers at the morning exercises
© UNIAN

1 of 17

The Klitschko brothers at the morning exercises
© UNIAN

1 of 17

The Klitschko brothers at the morning exercises
© UNIAN

1 of 17

The Klitschko brothers at the morning exercises
© UNIAN

1 of 17

The Klitschko brothers at the morning exercises
© UNIAN

1 of 17

The Klitschko brothers at the morning exercises
© UNIAN
The Klitschko brothers at the morning exercises
© UNIAN

The Klitschko brothers at the morning exercises
© UNIAN

The Klitschko brothers at the morning exercises
© UNIAN

The Klitschko brothers at the morning exercises
© UNIAN

The Klitschko brothers at the morning exercises
© UNIAN

The Klitschko brothers at the morning exercises
© UNIAN

The Klitschko brothers at the morning exercises
© UNIAN

The Klitschko brothers at the morning exercises
© UNIAN

The Klitschko brothers at the morning exercises
© UNIAN

The Klitschko brothers at the morning exercises
© UNIAN

The Klitschko brothers at the morning exercises
© UNIAN

The Klitschko brothers at the morning exercises
© UNIAN

The Klitschko brothers at the morning exercises
© UNIAN

The Klitschko brothers at the morning exercises
© UNIAN

The Klitschko brothers at the morning exercises
© UNIAN

The Klitschko brothers at the morning exercises
© UNIAN

The Klitschko brothers at the morning exercises
© UNIAN
Athletes pleased with the morning warm-up.
Today, 1 October, in Kiev, near the lake telbin the mayor of the capital Vitaly Klitschko and his brother Vladimir has tested Ukraine's largest treadmill.
About it reports a press-service of Klitschko.
Brothers athletes, along with everyone flexed their muscles in the fresh air and running around the lake.
See photos: Fallen mayor. Klitschko fell off the bike
With them trained fighter ATO Sergei Romanovsky, who, during the battle of Happiness in the autumn of 2014 lost a leg. He received a modern prosthetic which allows him to run.
Comments
comments