Argentina Nude women protested in front of Parliament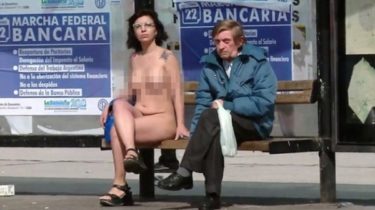 Argentina Nude women protested in front of Parliament
Curiosities
23 Sep, 20:05
1 of 8

© Mail Online

1 of 8

© Mail Online

1 of 8

© Mail Online

1 of 8

© Mail Online

1 of 8

© Mail Online

1 of 8

© Mail Online

1 of 8

© Mail Online

1 of 8

© Mail Online
© Mail Online

© Mail Online

© Mail Online

© Mail Online

© Mail Online

© Mail Online

© Mail Online

© Mail Online
Activists fighting for the legalization of public nudity.
In front of the Parliament of Argentina activist movement Urbanudismo staged Nude. Women undressed to once again hold a protest against the sexual objectification of women.
Activists fighting for full approval of a naked female body, full approval rights and freedoms, advocate for breast-feeding in public places, promoting the ideas of tolerance in society. This writes the Mail Online.
See also: In the Czech Republic the man left at the bar secured her clothes and naked on the street looking for money
"We want society to perceive the naked female body as something acceptable, and not as some kind of perversion with sexual overtones. Legalizing public nudity will bring pleasure to many people and wouldn't hurt anyone", – explained the press-Secretary of the Urbanudismo Paula Brindisi.
Nude action lasted a few minutes, puzzled and outraged passers-by called the police, which dispersed the activists.
Comments
comments