The militants refused to withdraw its troops from Peter and Stanytsia Luhanska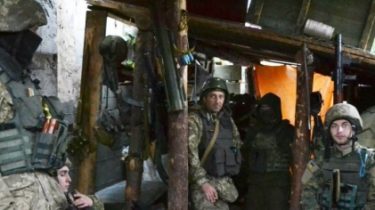 The militants refused to withdraw its troops from Peter and Stanytsia Luhanska
Ukrainian soldiers in the ATO zone in the Donbas© UNIAN
The withdrawal of troops occurred only in one of three places, which agreed in Minsk.
As of today, October 2, it happened in the Donbass, the withdrawal of the militants and the Ukrainian army a kilometer in only one place of three planned – near Zolote in the Luhansk region. However, in Stanytsia Luhanska in Luhansk region and Petrovsky Donetsk region so far this has not happened.
Ringleader "DPR" Alexander Zakharchenko said that the militants will take their groups and weapons from Peter the great only when it will make the Ukrainian side. This writes the Agency "RIA Novosti".
"We refused to take our armed forces for the reason that Ukraine is not ready. Until she is ready to perform – we will not get," – said Zakharchenko.
Earlier in "DNR" said that the withdrawal may take place on Monday, October 3.
Refusal to carry out the withdrawal of troops today, 2 October, near the village of Lugansk, said in the "LC".
See also: occupied Donbas militants at gunpoint staged a rehearsal of the local "elections"
"Regarding Gold, we reaffirm, indeed, yesterday was a fact-of-way. As for the village of Lugansk and Petrovsky, record daily attacks. Under the framework agreement, within seven days there should be a clear, sustainable compliance "regime of silence", which is now not happening," – said in the broadcast channel "112 Ukraine" the head of Department on public relations of the Armed forces of Ukraine Bogdan Senyk.
We will remind, on September 21 in Minsk, the parties signed an agreement, according to which planned to create three "security zones". Document of intent to withdraw there troops and equipment from the contact line was also signed by the representatives of terrorist "DNR" and "LNR". It seems, from Moscow came the order to demonstrate a constructive approach. To move the parties would have had in 13 days. Each side is a kilometer to the snipers did not see each other, and to not reach small arms. The start of the plan, if at least a week in these areas will not shoot. And with careful control of the OSCE. The problem now – and with that, and with others.
Comments
comments