In the occupied Donbas militants at gunpoint staged a rehearsal of the local "elections"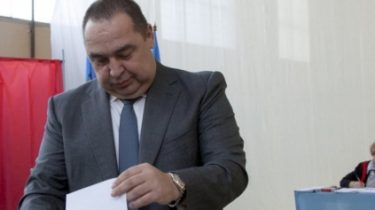 In the occupied Donbas militants at gunpoint staged a rehearsal of the local "elections"
© lug-info.com
The leader of the militants said that because of the "primaries" they want to show the world can supposedly "civilized way to conduct elections."
In the occupied areas of Donetsk and Lugansk regions at gunpoint today, October 2, are the so-called "primaries" – a preliminary "vote" for mayors and heads of districts.
In the Luhansk region, in particular, in the "election" registered 243 candidate, writes "RIA Novosti". The leader "LNR" Igor Plotnitsky declared that a "vote" should show the world the alleged militants are able "to hold elections in a civilized manner". They say, "primaries" will be a step "towards a recognition of our Republic."
Recall that according to the Minsk agreements in the occupied Donbas local elections be held. Official Kiev has repeatedly stressed that at gunpoint by militants of the vote can't happen. After all, it automatically casts doubt on their results.
Meanwhile, despite assurances from the rebels that supposedly adhere to the "regime of silence" for the last day they are 47 times fired on the Ukrainian military.
Comments
comments