The Russian defense Minister Shoigu presented the newly minted commander of Russian paratroopers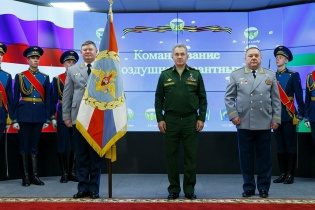 The Russian defense Minister Shoigu presented the newly minted commander of Russian paratroopers
© Russian defense Ministry/Facebook
He became Colonel-General of the Rostov region.
Monday, October 10, the Minister of defence of Russia Sergey Shoigu handed the flag to the new commander of the airborne troops of the Russian Federation Andrey Serdyukov.
Shoigu also introduced Colonel General staff. It is reported by Interfax.
Read also: Russia deployed in the occupied Crimea airborne division
"Andrey is a competent leader and skilled organizer. Gained experience in service in the far East, South and Western regions. Passed all major command and staff positions from the commander of the reconnaissance platoon to the commander of the 12th reserve of the southern military district," — said Shoigu at the ceremony, the regimental banner of the new commander of the VDV.
In turn, Serdyukov has promised to maintain the traditions of the airborne, "imbued with patriotism, selfless dedication, unbending will."
According to Shoigu, an order appointing Serdyukov, President Vladimir Putin signed on 4 October.
Serdyukov's predecessor, Colonel-General Vladimir Shamanov was elected to the state Duma under lists "an United Russia". He now heads the Duma Committee on defense.
We will remind, the state Duma was elected "Prosecutor" of the occupied Crimea Natalia Poklonskaya and "Vice-Premier of the Crimea," Mikhail Sheremet and Ruslan Balbec.
Poklonskaya may lead the Commission on control over reliability of Declaration of incomes of the Russian deputies.
Comments
comments