To the detainee in Moscow the journalist Sushchenko finally, let the Consul – Poroshenko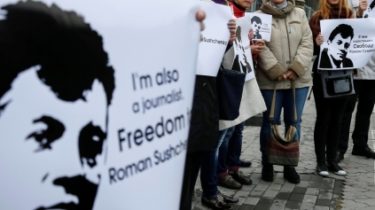 To the detainee in Moscow the journalist Sushchenko finally, let the Consul – Poroshenko
© Reuters
Diplomats a week not allowed to the prisoner.
Next week the detained Russian intelligence journalist Roman Sushchenko will visit the Ukrainian diplomats. This was announced by the President of Ukraine Petro Poroshenko.
"Pavlo Klimkin has just reported to me that Ukrainian diplomats have made access to our journalist Roman Sushchenko – next week," wrote the President in the microblog.
Sushchenko detained October 1, and still didn't allow him the consuls. Meanwhile, the journalist filed a formal charge of espionage.
PP: Pavel Klimkin has just reported to me that the Ukrainian diplomats have sought access to our journalist Roman Sushchenko – next week
— Petro Poroshenko (@poroshenko) on 7 October 2016.
On the eve of the live talk show "Right to rule" mark Feigin expressed fearsthat the Russian government will use Sushchenko in their own manipulation and will delay the process. The case could turn into a "Savchenko-2".
Russia can use Sushchenko the same way as before Savchenko – Feigin
Policy
7 Oct, 00:39
Add to favourites
Lawyer mark Feigin believes that Russia may use in the interest of the journalist Roman Sushchenko, who was recently taken prisoner by Russian special services. Feigin previously defended Nadiya Savchenko and suggests that the process Sushchenko is unlikely to be easier.
We will remind, on Monday, 3 October, information appeared about the arrest of Roman Sushchenko Lefortovo court for 2 months. Russian security forces claim that Sushchenko "purposefully collected data, which constitute state secret, the activities of the Armed forces and National guard, the leak of which abroad could harm the defense of the state". Against the Ukrainian opened a criminal case on charges of espionage, are investigating. Roman Sushchenko in jail "Lefortovo" has found members of the Public oversight Commission (POC) of Moscow. 47-year-old journalist was in the chamber of the quarantine Department.
The journalist told members of the POC that he was put under psychological pressure, and the investigator was not allowed to call and tell his wife about the arrest. The FSB has provided him with a state attorney. The former lawyer was released from Russian captivity of the people's Deputy of Hope Savchenko mark Feigin decided to help Sushchenko and become his protector.
Comments
comments