Ukrainian banks have closed more than 1.1 thousand branches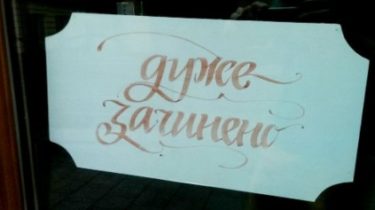 Ukrainian banks have closed more than 1.1 thousand branches
© 7dniv.info
Most departments closed state "Oschadbank."
From the beginning of 2016, the Ukrainian banks have closed their branches in 1153, and their total number decreased by 9.7% up to 10718.
Such data are the national Bank says "Financial club". Closer to the fall the rate of decline in branches has decreased: in the second quarter the figure was 4.5%, in the third – 1%.
See also: After Stripping the banking system of Ukraine is responsible money on Deposit
Among the largest banks leaders to reduce their network from the beginning of the year were "Oschadbank" – 366 offices (reduction by 8.8%), "PrivatBank" – 259 branches (10%), "UkrSibbank" – 46 units (10.2 percent). "PRAVEX-Bank" has reduced the number of its offices by 40 (28,7%), Bank "Pivdenny" – 25 compartments (18.1 per cent). At the same time, the state, the Bank opened 49 new branches (+27.3 per cent).
In "Oshchadbank" explain that the Bank is in the process of upgrading the network. And it's not just reducing the number of offices and the quality of the update. The Bank establishes a branch network of a new format, which the country is already 355. Additionally, the Bank focused on the introduction of improved online services and upon the installation in post offices terminals. The Bank said that clients in rural areas are not left without banking services.
"In some towns the Bank is forced to stop the activities of the offices to prevent further losses, because no commercial component to support the commercial activities does not exist. It is important that the closure of EACH branch is preceded by a months-long period of negotiations with rural/local/regional government, deputies in the field with one goal – work together to find the sources of Bank branches operating the maintenance of the profit to Oschadbank had the chance to stay and work," reads the official statement of the Bank.
Recall that the banking system of Ukraine has returned to profitable operations for August 2016 financial institutions have a profit of $ 2.7 billion.
Comments
comments