Under the Appellate court of Kiev there were collisions, there are detainees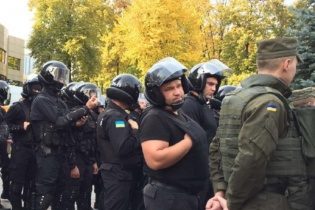 Under the Appellate court of Kiev there were collisions, there are detainees
© Gromadske TB
The judicial institution arrived fighters of special forces.
In Solomenskiy district of Kiev under the building of court of Appeal, which must elect a measure of restraint five suspects in the murder of two law enforcement officers and the attack on the gas station, clashed.
Security forces detained four men. One of them was seized a knife.
"As a result of four active participants were detained and delivered in Solomenskiy police Department. One of them seized a knife, sent for examination to determine whether it is a cold weapon", – is spoken in the message of GU NP of Kiev.
The police added that the two will be drawn up administrative reports for willful disobedience to militiamen. In addition, the issue of opening of criminal proceedings under article 345 (Threat or violence concerning the employee of law enforcement body) the criminal code.
After clashes at the court of Appeal detained two men pic.twitter.com/VQRYRt4Guv
— Hromadske.UA (@HromadskeUA) October 1, 2016.
Before the Appellate court of Kiev began an emergency meeting on election of a preventive measure five suspects in the murder of two policemen. Two other suspects – Daniel Sitnikov and Nikolay, Mishenko – were under house arrest. Them in a court hall was not. Front of the gathered representatives of various organizations, in particular, nationalist C14, five representatives of which tried to get into the courthouse, climbing over the fence. However, they were prevented by militiamen. After that there was clash between the C14 and the police but nobody was detained.
We will remind, murder of a policeman in Kiev took place on the night of 4 may 2015. Two policemen died, three were hospitalized with injuries. According to the interior Ministry, may 4, at about 01:30 in Desnianskyi district of the capital unknown persons in masks, threatening with the weapon, attacked a petrol station. The attackers was wounded in the hand filling station worker, and took from the cash register 823 UAH. During the prosecution of the suspects two employees of a regiment of special police was killed and three guards were hospitalized.
The suspects in the crime have become Vita zavirukha, Andrey Romanyuk, Mykola Nishenko, Eugene Koshelyuk and Daniel Sitnik. All of them, including the girl, were activists of the Maidan, and then participated as volunteers in the ATO battalion "Aydar", "Azov", "Shakhtersk".
Comments
comments