"Hungry" flash mob. Thousands of Russians were pounded at the line for free burgers from the rapper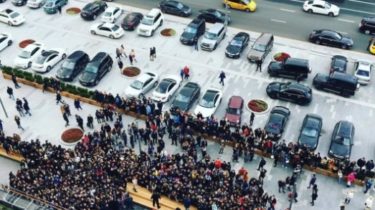 "Hungry" flash mob. Thousands of Russians were pounded at the line for free burgers from the rapper
Curiosities
26 Sep, 22:34
1 of 2

© Twitter / martin_camera

1 of 2

© Instagram / mcdoni_blackstar
© Twitter / martin_camera

© Instagram / mcdoni_blackstar
The distribution of food, Timothy decided to advertise their new restaurant.
Today, 26 September, about five thousand Russians came for the free burgers in the center of Moscow. This action rapper Timati decided to advertise your restaurant Black Star Burger, which opened a week and a half ago.
Users of social networks are publishing a selfie against the background of the artist and video of the cooking process of the Burger, says "Iodine". Other social media users mock them – like, rushed to stand in a long line for a free meal, and advise Timothy to open a kebab.
On the New Arbat, now about a thousand people crowded to get a free Burger from Timothy. It's very bad.
— Alexey Tyurenkov (@SolidPumba) 26 Sep 2016
Where is super news about kebab Timothy?
Soul retired (@best_lie_ever) 26 Sep 2016
Comments
comments