Israel did a mock ad about Putin and his daughter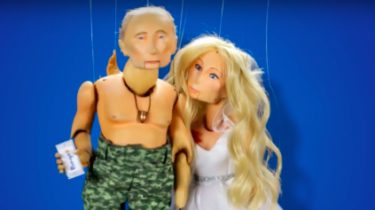 Israel did a mock ad about Putin and his daughter
© YouTube
In the video of the Russian President on the tank clears for my daughter a place for Parking in Moscow.
In Israel, filmed promotional video of Pango, the protagonists of which were the President of Russia Vladimir Putin and his daughter.
The company provides drivers the opportunity to pay for Parking using the mobile application.
In the video posted on YouTube, Putin's daughter rides a red convertible in Moscow and can't find Parking, swearing. She calls her father who is fighting in Aleppo and asked him to help her with the solution to the problem, dad, which is a bit preoccupied by the war, forced to escape to help her daughter, and pushes on the tank cars in the Russian capital, freeing her Parking spot.
In the video there is profanity!
Then, Pango says that to cope with such a problem is not worse than Putin.
Recall that in the final of the national qualifying round of "Eurovision" in Slovenia showed a parody video about the Russian President Vladimir Putin. As reported by the local newspaper, the video showed during the break, while there was a vote for the representative of Slovenia at the Eurovision song evrokonkurs.
The author of the song and the video was the Slovenian comedian Klemen Laconia, who led the concert. In the song "Putin, Putout" mocked the Imperial ambitions of the Russian President.
Comments
comments