In Brazil found the world's largest Anaconda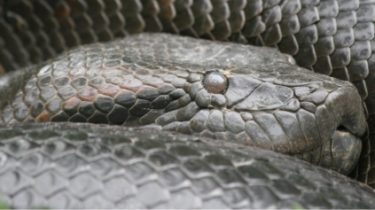 In Brazil found the world's largest Anaconda
© Getty Images
The length of the snake reaches about 10 meters.
In Brazil found, most likely, the world's largest Anaconda. Its length is about 10 meters, and it weighs 400 pounds. This reports the Metro.
In a Network there was video of a strange creature. So, it can be seen that the snake, which reaches a diameter of nearly one meter, lifted by earthmoving equipment.
According to builders, the creature they found after an explosion at one of the dams, the hydroelectric plant of Belo Monte, in Brazil.
Many users were outraged by the video, which is dead serpent lies chained.
Note, the video has hit the net in February. During this time it has gathered over 2 million views.
We will remind, earlier it was reported that in Malaysia died the longest Python in the world. Snake can go down in history as the longest ever caught. Its length was more than eight meters, while in the Guinness book of records biggest snake is still considered a reticulated Python named Medusa, whose length is 7 meters, 67 centimeters. Dead snake weighs about 250 kg.
Comments
comments