In Kiev, the car fell completely into the pit in the middle of the road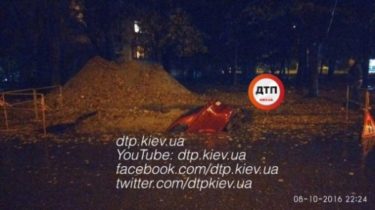 In Kiev, the car fell completely into the pit in the middle of the road
Kiev
8 Oct, 23:58
1 of 5

© dtp.kiev.ua

1 of 5

© dtp.kiev.ua

1 of 5

© dtp.kiev.ua

1 of 5

© dtp.kiev.ua

1 of 5

© dtp.kiev.ua
© dtp.kiev.ua

© dtp.kiev.ua

© dtp.kiev.ua

© dtp.kiev.ua

© dtp.kiev.ua
Eyewitnesses claim that the hole in the road the past two weeks.
Today, October 8, in the evening on the streets of Volgograd in the Solomyanskyi district Kiev car "Aveo" flew into the hole in the middle of the road, which left either the utility, or road service. The hole is so big that the car is almost completely disappeared under the asphalt, apparently only the trunk.
It is reported dtp.kiev.ua and clarifies that the open pit was with minimal fencing.
"Yesterday it was passing. Saw a hole and imagined how someone distracted on the phone or on the radio, or a passing car, and maybe akurat stop in her. And then, a day later, this post! I'm in shock!", commented in Facebook photos of the crash of the user Arthur Gostev.
"Two weeks open pit there," said another inhabitant of Kiev Dmitry Kogut.
Recall that in Chernivtsi young man smashed a gift from my parents Mercedes and sent friends to the intensive care unit.
Comments
comments