In South Korea the waiter "neutralized" Galaxy Note 7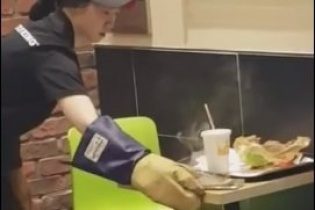 In South Korea the waiter "neutralized" Galaxy Note 7
© YouTube
To do this, she needed her mittens.
In the fast-food restaurant of Burger King in South Korea on the Desk of one of the visitors began to smoke Samsung Galaxy Note 7.
It was noticed by the worker of an institution and did not hesitate, put on the baking gloves and tried to remove the phone from the table.
See also: Samsung stops production of the "inflammatory" Galaxy Note 7
However, the first worker failed smartphone fell to the floor, not ceasing to smoke.
The girl was taken aback and raised an explosive Galaxy Note 7 from the floor, despite the fact that it interfered with thick gloves.
One of the visitors caught all the action. More details on curiosity can see below.
Recall, the company Samsung has already stopped selling the new smartphone model Galaxy Note due to constant customer complaints about the ignition devices even after repair. Already purchased smartphones, the company offered to exchange for a new one.
In General, due to the explosions phones market value of the company fell by 22 billion dollars.
Comments
comments