Institute for families of the Heavenly hundred and the ATO soldiers commemorated in Ukraine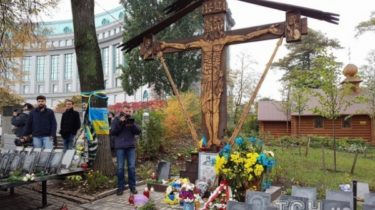 Institute for families of the Heavenly hundred and the ATO soldiers commemorated in Ukraine
Kiev
October 8, 10:04
1 of 14

© Photo by Ivan Grebenyuk/TSN

1 of 14

© Photo by Ivan Grebenyuk/TSN

1 of 14

© Photo by Ivan Grebenyuk/TSN

1 of 14

© Photo by Ivan Grebenyuk/TSN

1 of 14

© Photo by Ivan Grebenyuk/TSN

1 of 14

© Photo by Ivan Grebenyuk/TSN

1 of 14

© Photo by Ivan Grebenyuk/TSN

1 of 14

© Photo by Ivan Grebenyuk/TSN

1 of 14

© Photo by Ivan Grebenyuk/TSN

1 of 14

© Photo by Ivan Grebenyuk/TSN

1 of 14

© Photo by Ivan Grebenyuk/TSN

1 of 14

© Photo by Ivan Grebenyuk/TSN

1 of 14

© Photo by Ivan Grebenyuk/TSN

1 of 14

© Photo by Ivan Grebenyuk/TSN
© Photo by Ivan Grebenyuk/TSN

© Photo by Ivan Grebenyuk/TSN

© Photo by Ivan Grebenyuk/TSN

© Photo by Ivan Grebenyuk/TSN

© Photo by Ivan Grebenyuk/TSN

© Photo by Ivan Grebenyuk/TSN

© Photo by Ivan Grebenyuk/TSN

© Photo by Ivan Grebenyuk/TSN

© Photo by Ivan Grebenyuk/TSN

© Photo by Ivan Grebenyuk/TSN

© Photo by Ivan Grebenyuk/TSN

© Photo by Ivan Grebenyuk/TSN

© Photo by Ivan Grebenyuk/TSN

© Photo by Ivan Grebenyuk/TSN
On the street where brutally shot protesters held a prayer service.
On the eve of the feast Day of defender of Ukraine in Kiev on Institutskaya street, near the cross in honor of the Heavenly Hundred was held the action "the memory of all who died for the independence of Ukraine."
The action takes place for the third time.
See also: Ex-commander of "Berkut" and explained why they did not stop the security forces during the massacre of people on Maidan
Among the organizers of the prayer service – the relatives of the victims on the Maidan, volunteers and soldiers ATO.
An honor guard carried the cadets of the Kiev Professional College with enhanced military and physical training.
We will remind, on October 7 the President of Ukraine Petro Poroshenko has signed a decree on the celebration in 2016 of the Day of Dignity and Freedom – November 21 – the day of the Orange revolution of 2004 and the revolution of Dignity 2013.
Comments
comments