A terrible fire in Kiev: the security guard is burned due to the outstanding cigarette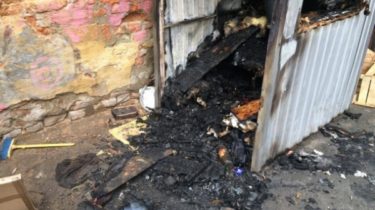 A terrible fire in Kiev: the security guard is burned due to the outstanding cigarette
Kiev
8 Oct, 14:02
1 of 5

© Anton Strashko / TSN

1 of 5

© Anton Strashko / TSN

1 of 5

© Anton Strashko / TSN

1 of 5

© Anton Strashko / TSN

1 of 5

© Anton Strashko / TSN
© Anton Strashko / TSN

© Anton Strashko / TSN

© Anton Strashko / TSN

© Anton Strashko / TSN

© Anton Strashko / TSN
The incident happened in the city centre.
Tonight in the capital, burned the guard who fell asleep with a cigarette nepomukshell.
About it the correspondent of TSN Anton Strashko.
See photos: In Kharkov, in the street broke out the car
He burned himself with the security office. The event took place on the street, Yaroslaviv Val 15.
To the place of profit firemen, however, save the man failed.
Comments
comments