Italy has introduced a unique wooden bike made in Ukraine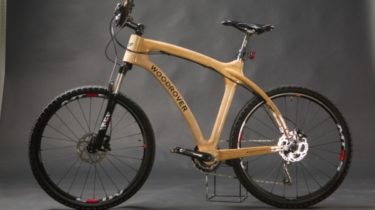 Italy has introduced a unique wooden bike made in Ukraine
Money
7 Oct, 03:54
1 of 6

© Woodrover

1 of 6

©

1 of 6

©

1 of 6

©

1 of 6

©

1 of 6

©
In Ukraine, these bikes are not sold because of the high cost, but abroad, ready to pay for it.
Ukrainian company Woodrover creates expensive toys for boys – wooden bikes that go, says the story TSN.19.30.
Valery Gorbatov takes part in the exhibition "Bologna Desighn Week" in Italy. His company is among eight Ukrainian participants who will present their products.
His wooden bike Valery first brought to the international exhibition. Meetings with possible partners have planned in advance.
See also: In Zaporozhye and earned a patrol on bicycles
It all started two years ago. He is 15 years made furniture in the town of Vyshneve, Kyiv region until his birthday did not want something special.
Design took it upon themselves to engineering solutions found aircraft. Immediately decided it should be a bike for the elite, which is not inferior to the expensive metal counterpart. Two months to design, two months were made.
"Glued layers made from several components. That is exactly is the triangle frame, which is going all together. There are feathers, which are glued to him separately. Moreover, here the layers of reinforcing reinforced with fiberglass for increased durability," says designer bike Anton Lubnin.
See photo: Shakhtar Players riding exercise bikes
The first test drive took place on these Cycling – it experienced athlete Alexander Coprinus during the Kiev marathon. Then there were other tests – all shot on video.
"Prayed, went. Drove 100 kilometers I drove great. Everyone in Ukraine talking about the need to make investments in some way. But how to do it, few people know. You need to create cool new high-quality Ukrainian product," says entrepreneur and cyclist Alexander Coprinus.
In the world and counted a dozen companies that produce wooden bikes, so it's a fashion item for the country. On Vukovara traveled foreign Minister Klimkin during a bike ride in Amsterdam before the referendum in the Netherlands. The bike was taken at the economic forum in Toronto, the delegation of the Ministry of economic development. The company already receives government support.
See photos: In Ukraine appeared first train car for bicycles
"We are introducing the initiative on supporting the participation in international exhibitions and fairs with the help of funds from our donors that we have," – said the Deputy Minister of economic development and trade Natalia Mykolskiy.
Currently the company has partners in three European countries. In Ukraine wooden bikes are not sold because of the high cost – nearly three thousand euros. But abroad, are willing to pay for a product with a Ukrainian flag.
By TSN correspondent Oksana Mulyar
Ukrainian company creates unique wooden bicycles
TSN. 19:30
6 Oct, 21:14
Increasingly, due to the unique Ukrainian goods for themselves to create a niche in the European market. We continue our series of reports about the successful business. Following our story about the manufacturer of two-wheelers for the Europeans.
Add to favourites
Comments
comments