Poltorak announced statistics the ATO in 2016: 12 thousand attacks, 173 dead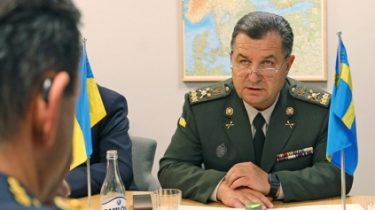 Poltorak announced statistics the ATO in 2016: 12 thousand attacks, 173 dead
The defense Minister said that Russia does not stop its own aggression against Ukraine.
Hybrid war of Russia against Ukraine, which is manifested in the complex coordinated informational, military and economic events continues with no signs of completion. This was stated during a visit to Sweden, the Minister of defence of Ukraine Stepan Poltorak.
As the press service of the defense Ministry, Ukrainians showed the Swedes proof of stay of Russian troops on the territory of Donbass. "Today Russia continues the policy of deliberate escalation of the conflict. Starting in 2016, the Russian occupation troops more than 12 thousand times violated the ceasefire that led to the deaths of 173 soldiers. And on the territory of Ukraine illegally are 6 thousand servicemen of the armed forces," – said Poltorak.
According to him, the official Kiev continues to implement the policy of peaceful settlement of the conflict. "The actions of our state is aimed at strict compliance with the Minsk agreements, solving problems by political means and in a peaceful way", – assured the Minister. And his colleague Denis Gyllensporre noted the readiness of Sweden to support the Ukrainian army in the development of NATO standards.
The relative "silence mode": how the truce in the Donbas since September 1
TSN. Week
4 Sep, 20:14
Add to favourites
On the day when the children from both sides of the front went to school, the defense Minister Poltorak said that the attacks really stopped. But with 12:00 there were reports of shooting from anti-tank grenade launchers at Trinity, Nevel and Avdiivka in the Donetsk region. Moreover, according to the headquarters ATO, at the forefront of the militants was a Russian TV crew to record as this mode of silence violates the Ukrainian side.
Comments
comments