The 20 most expensive brands in the world. Infographics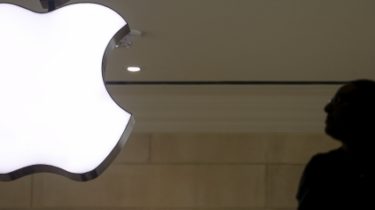 The 20 most expensive brands in the world. Infographics
For the fourth consecutive year, remains the leader of the Apple brand.
The company Interbrand Corp released top 100 global brands. According to these results, technological brand won the championship.
Apple, Google and Coca-Cola has kept its leader position in the ranking of the most expensive in the world. The brand value of Apple has increased by 5%, to $ 179,1 billion, Google is at the second place for the year has added 11%, rising to $ billion a cash consideration of 133,3 Coca-Cola, which managed to hold the championship for 13 years until 2013, is now ranked third, the cost of the brand decreased by 7%, to $ 73.1 billion.
The top ten included six members of the high-tech sector: the top consists of Microsoft (4th place, $ 72.8 bn), IBM (6th, $ 52.5 billion), Samsung (7th, $ 51.8 billion), Amazon (8th, $ 50.3 billion).
Read also: Apple, Coca-Cola, Disney. Published a list of the most expensive and influential brands in the world
Also in the top ten were two car brand – Toyota in fifth place and Mercedes in ninth. Top 10 General Electric, valued at $ 43.1 billion In turn, the BMW took the 11th place ranking, at $ 41.5 billion.
In 12th place was the fast food restaurant McDonald's, estimated at $ 38.3 billion, and by 13 – Walt Disney as a whole is estimated at $ 36.5 billion, the Next line of the rating took the manufacturer of electronic devices and computer components, Intel ($ 36, 9 billion with the increase in price on 4%).
Facebook showed the highest growth in brand value over the year by 48% ($32.6 billion), it has allowed the social network to up to eight lines of up to 15-th place.
Read also: Smartphones Pixel, virtual reality and intelligent column. A brief overview of the new Google
The world's largest network-equipment maker Cisco was valued at $ 30, 9 billion, which placed it at the 16th position of the ranking. Oracle Corporation, which develops software for organizations, the cost of which decreased by 3%, took the 17th place.
Close the Top 20 most expensive brands in the world clothing manufacturers. Brands Nike, Louis Vuitton, H&M took three of the last step. The cost of Nike increased by 9%, Louis Vuitton was estimated at $ 23.9 billion, and H&M – $ 22.6 billion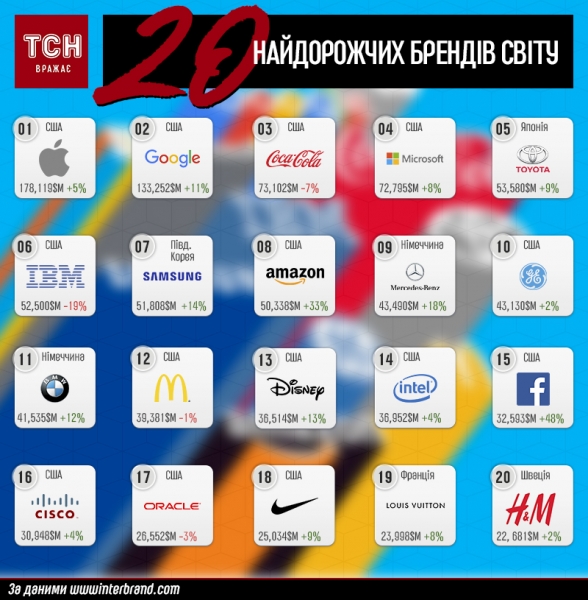 TSN.ua
Comments
comments