The lawyer called the detention of journalist Sushchenko planned action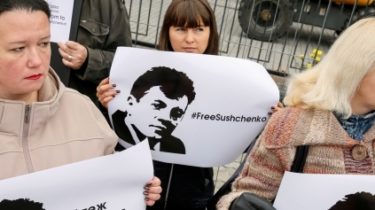 The lawyer called the detention of journalist Sushchenko planned action
© Reuters
The lawyer called the detention of journalist Sushchenko planned action
The detention of the journalist Roman Sushchenko Moscow was a planned special operation. This was told by his lawyer, mark Feygin, says TSN.12:00.
According to the lawyer, the chances of the release of Ukrainian there. Most real defender names the exchange process. And says that this question will raise.
Previously to Sushchenko in a Moscow prison finally allowed Ukrainian Consul. After it became known that the journalist in the detention facility had a psychological pressure.
Contain a prisoner in a double cell together with a neighbor and allow you to watch Russian TV. The first day he was not fed and not given even water. For the week of captivity, he lost six pounds.
Recall, 3 October, information appeared about the arrest of Roman Sushchenko Lefortovo court for 2 months. Russian security forces claim that Sushchenko "purposefully collected data, which constitute state secret, the activities of the Armed forces and National guard, the leak of which abroad could harm the defense of the state". Against the Ukrainian opened a criminal case on charges of espionage, are investigating. Roman Sushchenko in jail "Lefortovo" has found members of the Public oversight Commission (POC) of Moscow. 47-year-old journalist was in the chamber of the quarantine Department.
The journalist told members of the STC that he was put under psychological pressure, and the investigator was not allowed to call and tell his wife about the arrest. The FSB has provided him with a state attorney. The former lawyer was released from Russian captivity of the people's Deputy of Hope Savchenko mark Feigin decided to help Sushchenko and become his protector.
Journalist Roman Sushchenko can exchange for a detainee recently in Exactly the agent of the main intelligence Directorate of the General staff of the armed forces of the Russian Federation.
Comments
comments