The militants "LNR" dream of a profitable trade with Ukraine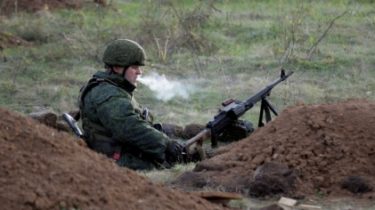 The militants "LNR" dream of a profitable trade with Ukraine
© Reuters
Degtyarenko surprised that Ukraine was isolated from the criminals.
Lugansk militants want to establish with Ukraine economic relations.
About it RIA Novosti said the so-called head of the National Council of the terrorist organization "LNR" Vladimir Degtyarenko.
"If they withdraw the economic blockade, we will not become the Ukrainian side, we will resume normal economic relations with Ukraine, because it is beneficial to us," he said.
The gunman said that the terrorists, who continue with the assistance of Russia to keep part of the Lugansk region, can not affect the process of transport and economic blockade.
Read also: Militants live with the rumors about their "leak" Putin and "Enroute" fed with promises to take Severodonetsk
"In fact, Ukraine has isolated itself from us. The only way out for us is the reference point for Russia. How to go to relatives to Ukraine only through Russia, how to export the goods only through the Russian Federation. This measure is a great folly on the part of Ukraine," — said the terrorist Degtyarenko.
Previously, the so-called speaker of the "Parliament" of the organization Alexey Karjakin has accused the leader of the militants Lugansk Igor Plotnitsky that he "imagined himself a king in this territory, and shall sweep all, who could compete with him".
Back from vacation: at the airport "Borispol" detained a famous mercenary so-called "DNR"
TSN. Wounds
7 Oct, 09:01
Add to favourites
Rafael's Lusvardi – raspiarennaya in the separatist media personality. Professional fighter, he fought almost all the "hot spots" of the planet, and in 2014 the same year joined the invaders in the Donbas. Even received a medal by order of strelkov-Girkin. Separatist media willing to tell the military victories of Lusvardi how Ukrainians killed as were wounded in Donetsk airport.
Comments
comments