The military moved into the second section of the front and waiting for DRG enemy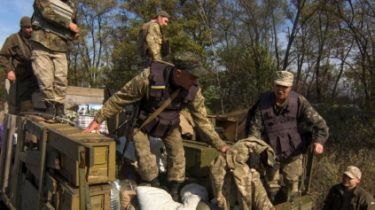 The military moved into the second section of the front and waiting for DRG enemy
© Reuters
The soldiers do not believe that the efforts of breeding of the parties to ensure a sustainable peace.
Ukrainian army reluctant, but left their positions on a particular sector of the front Bogdanovka-Petrovskoye in the Donetsk region. Troopers say they must obey orders, but to leave a frontier sad, says the story TSN.19:30.
The military did not really understand why it needs to leave the earth, which repulsed the enemy's meter by meter. But decided in the negotiations, so depart a kilometer to the rear and APU fighters, and Pro-terrorists. Representatives of the joint mission monitoring a cease-fire claim that the abandoned positions vacant will not – now they will be allowed to carry observers.
At the front again bred troops
TSN. 19:30
7 Oct, 19:41
Add to favourites
According to the latest Minsk, the so-called framework agreements. On a plot of Bogdanovka-Petrovsky of the Ukrainian army moved now per kilometer. The same claim that was made by the terrorists. As it happened, and most importantly, will benefit from this, refer to the material TSN.
Today's attempt is the fourth in a row on this site. The previous three ended in attacks by the militants. To start the process it would take 7 days of complete silence. Ukrainians say that actually 4 days ago it fired militants, however, the OSCE mission turned a blind eye. "It was fired from the automatic grenade launcher. Here, when the OSCE was confirmed that heard something, but the official report says that they are unsure of what it was in this area. I leave it to the conscience of the OSCE," – said the representative of Ukraine in joint missions to control and ceasefire Borys Kremenetsky.
There were concerns that the Ukrainian army out of most of Bogdanovka, but it is not – the settlement remains fully under Ukrainian control. However, the military say that the new position less favorable than those they had previously taken. Previous had the best view of the property. What on this site now, peace – the Ukrainian soldiers do not believe. And already waiting for enemy saboteurs. "They have a good ravine – you can safely go. Even as it will be clearing areas, then they can say the cards will be", – says member of the VSU Dmitry Bortnik.
Terrorists "DNR" destroyed Ukrainian ambulances
ATO
6 Oct, 20:26
1 of 4

© Facebook.com/Mustafanayyem

1 of 4

© Facebook.com/Mustafanayyem

1 of 4

© Facebook.com/Mustafanayyem

1 of 4

© Facebook.com/Mustafanayyem
© Facebook.com/Mustafanayyem

© Facebook.com/Mustafanayyem

© Facebook.com/Mustafanayyem

© Facebook.com/Mustafanayyem
Now turn to the breeding of the parties on the third mcastle – near the village of Lugansk. There in recent days, was restless, however, international observers are set to begin the implementation of the agreements already this week.
The TSN reporter Eugene Nazarenko
Comments
comments