Ukraine and Poland in the near future can sign the agreement on military cooperation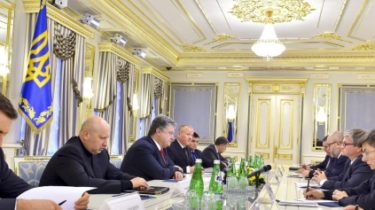 Ukraine and Poland in the near future can sign the agreement on military cooperation
© The website of the President of Ukraine
Poroshenko met with the head of the national security Bureau of Poland.
Ukraine and Poland in the near future to conclude a bilateral agreement on cooperation in the defense sphere.
This was during a meeting in Kiev told Ukraine's President Petro Poroshenko and the head of the national security Bureau of the Republic of Poland Pavel Solokh.
The sides noted the successful activities of the Ukrainian-Polish-Lithuanian military brigade ("Litpolukrbrig").
See also: In Lublin, earned a staff of the Lithuanian-Polish-Ukrainian military brigade
Also Poroshenko thanked the Polish side for its assistance in the training of Ukrainian officers and military doctors.
The parties paid special attention to strengthen dialogue in the context of Ukraine's relations with NATO.
Comments
comments