The NATO Secretary General said the deployment of Russian "Iskander" near Kaliningrad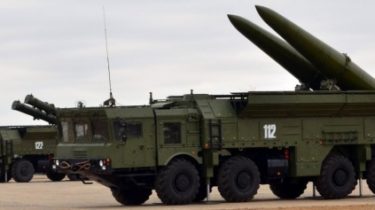 The NATO Secretary General said the deployment of Russian "Iskander" near Kaliningrad
Illustration© bastion-karpenko.ru
In the Kaliningrad oblast was transferred "Iskander-M".
Russia should have the usual line of conduct, placing of rocket complexes "Iskander-M" in the Kaliningrad region.
This was stated by NATO Secretary General Jens Stoltenberg, write RIA Novosti.
"Now I see that they place the rocket "Iskander" near Kaliningrad. All this corresponds to the behaviour we have observed for a long time," he said.
Read also: Russia has confirmed that it throws the "Iskander" to the border with the EU
That Russia throws "Iskander" in the Kaliningrad region, became known on 8 October from the reports of the Estonian media. Later, the Russian defense Ministry officially confirmed this information. The representative of the Ministry Igor Konashenkov said that the defense Ministry has repeatedly deployed "Iskander" in the Kaliningrad region and intends to do so in the future "in the framework of combat training".
Russia moves missiles "Iskander" with the EU
TSN. 19:30
8 Oct, 19:52
Add to favourites
In particular, in the Kaliningrad oblast between Poland and Lithuania. First this was reported by sources in the us intelligence community, and subsequently confirmed in the defense Ministry. They said that missiles near Kaliningrad was transferred more than once, and will do so in the future within combat training.
Comments
comments