Weather in the foreign exchange market: experts predicted the dollar exchange rate in Ukraine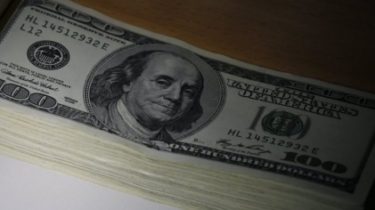 Weather in the foreign exchange market: experts predicted the dollar exchange rate in Ukraine
© UNIAN
In the free market the dollar is worth 26,10 hryvnia.
The dollar in Kiev is kept at around 26,10 UAH Euro, UAH 29,30.
This is stated in the plot of TSN.Week.
"Next week the dollar will fluctuate in the range 25,70-26,20 hryvnia per dollar. This range will continue in the future, because the dollar is affected by two factors. On the one hand, the market is oversupply of American dollars, and this will keep the dollar from strengthening. On the other hand, the NBU will continue to buy dollars in their reserves and this will help to ensure that the dollar will not fall", – predicts Taras Kozak of the investment group "Univer".
Also read: the Dollar and Euro cheaper in the course of the national Bank on 10 October. Infographics
"Next week the currency corridor will be in the range of 25.70-26,40 hryvnia per dollar. The exchange rate should stabilize, because the banks changed their strategy – now all free torque, which is in the banking system, and that 35 billion, will go on financing of small and medium-sized businesses. In the first place instead of investing in foreign currency", – explained Elena Korobkova with the Independent banking Association.
Informed in the national Bank explained what is happening with the hryvnia on the currency market.
How to save up to 20 thousand hryvnia for heating your home
TSN. Week
9 Oct, 20:58
Add to favourites
Our experts have considered. Only through walls, if they are not insulated, evaporate annually 6 thousand hryvnias from our pockets. 5 thousand is blown through the roof. Three of the Windows. 2.5 thousand out due to improper ventilation. And somewhere in a half during cold running to the door. 18 thousand annually in a private home. Somewhere half in the apartment. The recipe on the conservation of heat, see in the material TSN.
Comments
comments