In "Gazprom" has set a date for the start of construction of "Turkish stream"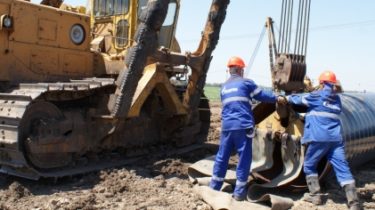 In "Gazprom" has set a date for the start of construction of "Turkish stream"
© Gazprom
At the bottom of the Black sea will lay two trunk pipeline.
The construction of the gas pipeline "Turkish stream"that will run from Russia across the Black sea to Turkey will be built in 2018.
This was stated by the head of "Gazprom" Alexey Miller on air of TV channel "Russia 24".
"The agreement on the beginning of the project and the article which tells about the beginning of implementation and construction of the project, shall enter into force upon its signing. Given the start of the project. According to our plan, the construction will start in 2018," – said Miller.
The Russian side will build the gas pipeline on its territory, and will lay it on the seabed. In Turkey work will be performed by local company Botas.
Gas from Russia through Turkey (bypassing Ukraine) in the future plan to supply Europe. This will create a joint Russian-Turkish company.
We will remind, Russia and Turkey signed an agreement on the implementation of the project "Turkish stream" on October 10. The document envisages the construction of two branches of the gas pipeline under the Black sea, the capacity of which will reach 15.75 billion cubic meters each. One branch is for the supply of gas to Turkey and transit through Turkey to Europe. Construction must be completed before the end of 2019.
Note that earlier, Russia froze the launch of the gas pipeline "Turkish stream", explaining their actions by the economic crisis in Turkey.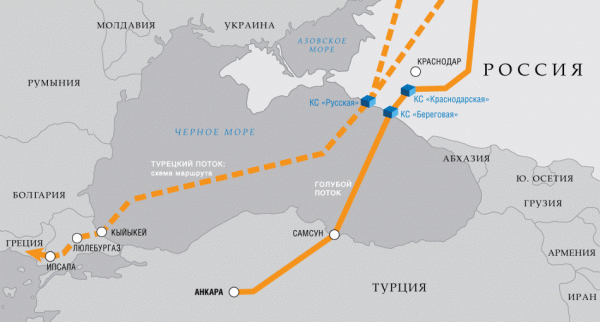 Gazprom
The scheme of construction of "Turkish stream" between Russia and Turkey
Putin agreed with Erdogan on establishment of the gas pipeline "Turkish stream"
TSN. Wounds
Yesterday, 08:01
Add to favourites
President Putin has invited his counterpart Erdogan a discount on gas and promised to lift the ban on Turkish fruit. Moscow has signed with Ankara the intergovernmental agreement on the gas pipeline "Turkish stream". It will supply natural gas to Europe bypassing Ukraine. Work on the project was suspended due to tensions between the two countries.
Comments
comments