In Germany, several leaders spoke against the new sanctions against Russia over Syria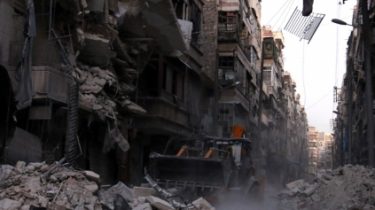 In Germany, several leaders spoke against the new sanctions against Russia over Syria
© Reuters
Supposedly, the new calls for sanctions attest to the lack of political imagination.
The leaders of the three German Federal States opposed the imposition of new sanctions against Russia because of the situation in Syria and called the sanctions counterproductive.
This writes dw.com.
For example, the Prime Minister of Mecklenburg – Western Pomerania the social-Democrat Erwin, Sellering convinced that Germany and Russia have one common interest – to return to a close partnership.
A critical stance against anti-Russian sanctions has the Prime Minister of Saxony-Anhalt Rainer Haseloff.
"I believe that new calls for sanctions attest to the lack of political imagination. We have to rely on dialogue and dealing with specific problems, not to escalate," said he. Haseloff believes that sanctions against Russia have not worked.
According to the Prime Minister of Saxony Stanislaw Tillich in Syria "directly or indirectly, is fighting a large number of armed groups and countries that support them. The resumption of negotiations – better than sanctions."
See also: the British foreign office has called for new sanctions against Russia because of the atrocities in Syria
Earlier human rights activists estimate that Russian bombers in the last year killed nearly 9.5 thousand Syrians. Three times more people were injured.
Full termination of cooperation with Russia on the Syrian issue Moscow has threatened in Washington after intensified shelling of Aleppo. The Kremlin said that will continue to support the regime of Bashar al-Assad.
The EU called for further financial sanctions against Russia over the Kremlin's actions in Ukraine and Syria
TSN. 16:45
Yesterday, 17:21
Add to favourites
The President of the European Parliament Martin Schulz and European Council President Donald Tusk said at a forum in Germany. According to officials, Russia has actively supported right-wing nationalists throughout Europe. And ready to continue to use force in Ukraine.
Comments
comments