In Kiev in October will open the first business forum for entrepreneurs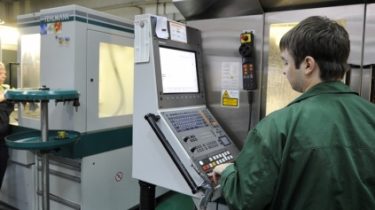 In Kiev in October will open the first business forum for entrepreneurs
© Information-analytical center of the NSDC
The main objective of the forum and prove to everyone that entrepreneurship is the most viable means to provide for his own family.
21 October in Kiev opened the first Ukrainian business-forum "Ukraine – a country of entrepreneurs" for young entrepreneurs and those who dream of owning your own business. It was organized by the Ukrainian Union of Industrialists and entrepreneurs with the support of PrivatBank strive to show working entrepreneurs and those who wish to start their own business, the possibilities and prospects for realization of their ideas, and inspire the manifestation of business initiative and demonstrate practical tools for creating or growing a business.
"Support and development of small business in Ukraine, of self-employment is one of the priorities of the USPP, because now small and average business brings in about 70% of tax revenues in the budget, capable of producing high-tech and competitive products with high added value, – said the President of UMB Kinakh. – While in the other basic sectors of the "boiling" of the crisis, the government should consider the development of self-employment, small and medium business as your strategy, it's new jobs, growth of solvency of the population. Ukrainian society is ready for it: over 60% of young people would like to open our own business."
The first business forum "Ukraine- a country of entrepreneurs" will bring together more than 400 young entrepreneurs and those who only dream about own business. They are waiting for the speech of government representatives and international organisations, inspiring success stories of young Ukrainian businessmen, among whom the founder of Petcube Alexander Meskin, Yuliya Savostina, the founders of the "Business of Youth" Evgeny Vasilenko and Alexander Kompanets, and many others. In addition, the forum participants will get a first hand useful tools to simplify the operating activities, individual advice from experts in business registration, accounting, tax reporting, legal support services, franchising, e-Commerce, etc.
"The main task of the forum and the program in General – to prove to everyone who dreams of his own business that entrepreneurship is the most viable means to provide for his own family, – says the head of "Small and Medium business" PrivatBank Alexander Nikolenko. – From its part we are ready to help start or grow your business tips, advice, innovative services and programs funding will be available for future entrepreneurs.
Among the ambitious plans of the organizers of the program "Ukraine – a country of entrepreneurs" – a series of business forums, including in the regions, designed to promote a culture of entrepreneurship in Ukraine. The main purpose of the project is to contribute through the development of small businesses create over 1 million new jobs. By the way, for all entrepreneurs participated in the forum, which will take place on 21 October in ECC "Park" (Park road, 16), free. You can register at kub.pb.ua/forum.
Comments
comments