Groisman multiplied by 2 the forecast of growth of economy of Ukraine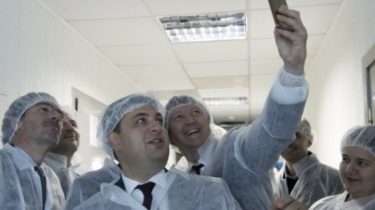 Groisman multiplied by 2 the forecast of growth of economy of Ukraine
© UNIAN
The Prime Minister admits GDP growth in 2017 by 6%.
The Ukrainian economy has potential to grow in 2017, not 3%, as now forecast, and the twice higher rate – 6%.
On this day, 11 October, during the government meeting said the Prime Minister Vladimir Groysman, transfers UNIAN.
"We have a great opportunity. We put 3 percent growth, but it can be doubled. We are able to give impetus to the development of production, to cease to be a raw type of economy, what we are today," – said Groisman.
For intensive development of industry and the transition from raw to innovative and technological development of economy the government established the national Committee on industrial development.
Earlier, the Prime Minister announced the creation in October of the guidance Office of investments, as well as the National Committee for the restoration industry.
According to the State statistics service, in Ukraine in August 2016, in annual terms, compared to August of 2015, the growth rates of industrial production by 3.4%, after falling 0.2 percent a month earlier.
Comments
comments