Putin called mantras statements about the absence of the impact of sanctions on the Russian economy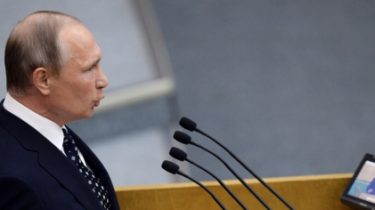 Putin called mantras statements about the absence of the impact of sanctions on the Russian economy
© Reuters
According to the President, the sanctions affect the Russian economy due to restrictions on the transfer of technology.
Russian President Vladimir Putin reiterated that sanctions significantly affect the Russian economy.
He stated this during the forum "Russia calling!" reports "Tape.ru".
Putin noted that Sanz harm to those countries which introduced them.
"We have already often repeated like a mantra that the notorious sanctions on us is not really affected. Affect. And above all, the threat I see to limit the transfer of technology. This, incidentally, is not only detrimental to the Russian economy and the world economy because the Russian economy is undoubtedly an important sector of the global economy," he said.
See also: the British foreign office has called for new sanctions against Russia because of the atrocities in Syria
We will remind, recently Putin demanded from the United States to lift all sanctions and compensate for damages Russia. Agreement between the U.S. and Russia on plutonium disposition suspended by the Kremlin on 3 October, can be restored in case of fulfillment of the American side of conditions.

EU extends sanctions against dozens of Russian citizens and Russian companies. in Particular, up to 15 March 2017 under sanctions to be 146 and 37 Russian companies, which in the EU is considered directly guilty of violating Ukraine's sovereignty and independence.
The United States will expand sanctions against Russia for aggression in Ukraine. The document of the Ministry of trade which have to print today, more than eighty companies from Russia, India, Hong Kong and the Crimea. In particular, the list of more than fifty firms controlled by Gazprom, and 11 producers of electronics, which can be used by the military.
Comments
comments