Trolling master Domino Kiva and meeting journalists from Russia with a song about Putin. Trends Network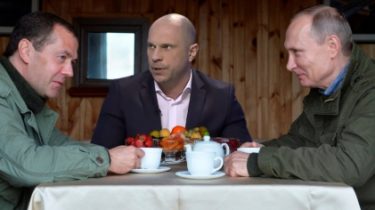 Trolling master Domino Kiva and meeting journalists from Russia with a song about Putin. Trends Network
© Dnia
Funny news and news that interest many, watch in our collection.
Team TSN.ia daily will collect for readers of the main trends of social networking – the key discussion topics of users, jokes, funny fotozhaby and most popular videos of the last days.
Today, 12 October, Internet users laughed at the former chief of Department of counteraction of narcocrime of national police Ilya Kiva, who in an interview said that he had become the head of the Federation of dominos to fall into Putin's entourage.
Also watched the video with the residents of Vilnius, which in the local pub we met the Russian journalists obscene song about Russian President Vladimir Putin and Ukrainian songs listened to in the "design" of the candidates in the presidents of the United States Donald trump and Hillary Clinton.
Comments
comments