TSN saw Mafy-low bar is easy to "stray" from checks on the quality of the alcohol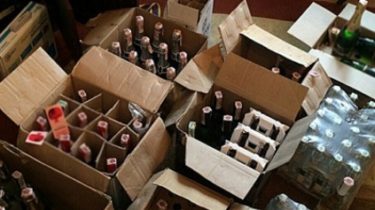 TSN saw Mafy-low bar is easy to "stray" from checks on the quality of the alcohol
© National police of Ukraine
The law is on the side of sellers rather than a reviewer, so to prove even the obvious violations is very difficult.
In the capital Mafy-Nalivaiko work with violation of all norms of sale of alcoholic beverages. This was revealed when the result is mass poisoning of low-quality vodka the wave of checks has finally come to Kiev, says the story TSN.19:30.
Inspectors found alcohol in packages and in containers without Ukrainian excise label or sign. The sellers say that the complaints never happened, and receipts and certificates of compliance buyers do not ask. Not interested in customers and licenses to sell alcohol, so they can hang just expired. Store owners explain the lack of relevant permissions in the user area that steals and drinks in plastic containers unmarked call the tasting sets from trusted manufacturers.
In the capital began checking the Mafs-reslewic
TSN. 19:30
10 Oct, 20:01
Add to favourites
Vodka and cognac unmarked paper packaging, customers are not asking for checks, but no offers – I work in the capital Mafy. Due to mass poisonings in Ukraine surrogate wave of inspections finally reached the capital.
Experts say that sellers have the full right not to provide the documents, if verification has not been warned in advance. "We need to warn the business entities that we take to the test. This is to some extent, limits our options," admits the representative of the management of Gospodarevskaya of Ukraine Liliya, starenko. "The law on basic principles of state supervision has not been canceled. All actions that are not spelled out in this law, there are acts of corruption, none of the civil servants not go to them," adds colleague Dmitry Derevyanko.
So the only way out now is to individual appeals and complaints of citizens. However, for this it is necessary to have a check and a medical conclusion which will witness the damage caused by alcohol. Yes and check in the end only the specific product to which the consumer complains. Therefore, all that can officials and activists, is to appeal to the conscience of the sellers and the accountability of consumers. Both factors are weak.
The TSN correspondent Olga Neskorozhana
Comments
comments