OSCE observers have recorded more than five hundred explosions near Mariupol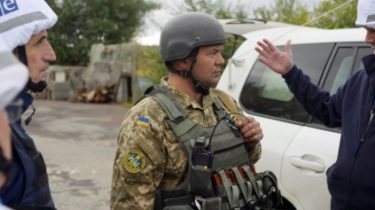 OSCE observers have recorded more than five hundred explosions near Mariupol
© Reuters
In the Luhansk region, the SMM observed more violations of the cease-fire than before.
Special monitoring mission of the Organization for security and cooperation in Europe said it recorded more than 500 explosions in the area of Mariupol.
This is stated in the mission report.
So, special monitoring mission has recorded more violations of the ceasefire regime in the Donetsk region in comparison with the previous period. According to the mission, the greatest number of violations were concentrated in areas to the northeast and East of Mariupol and in the area of Avdeevka and Yasinovataya. Observers claim that on 12 October in the Donetsk region recorded more than 550 explosions, while October 11 such explosions were recorded 355.
The OSCE mission said it was impossible to observe the breeding of the forces due to poor visibility at night and mining.
The mission also verified the information about the death of civilians in Krasnogorovka. In the local morgue, the SMM saw the remains of a woman who was killed in the village. The woman died because it was under tracked military vehicle.
The mission continued to observe the process of cultivation in the Village Lugansk, Gold and Petrovsky. But observers were restricted in freedom of movement in all three areas.
Read also: OSCE stopped monitoring one of the key areas in the Donbass
The OSCE because fighters can not monitor the area of demarcation in the Petrovsky district
TSN. Wounds
29 Sep, 08:29
Add to favourites
This information that they has distributed on his page on the social network. They point out that the experts visited the area controlled by the militants of the so-called "DNR" and came to the conclusion that you can't provide observers with security guarantees. So as to clear the area of breeding, and the road along it will not. The village of Petrovskoe in the sector of Mariupol and the Village Lugansk in the Luhansk region and gold is a pilot sectors of the front, where should be the cultivation of strength and technique. So I decided during the Minsk negotiations last week.
Comments
comments