Breeding forces in the Village of Lugansk finally broke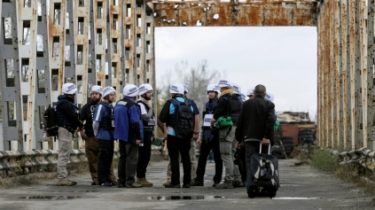 Breeding forces in the Village of Lugansk finally broke
Ukraine requires compliance with all prescribed stakeholders commitments.
Ukrainian soldiers remained in their positions in the Village of Lugansk. Militants for the second time disrupted the process of withdrawal of forces deep into each side, according to a story TSN.19:30.
On the eve on the presidential level, it was determined to begin withdrawal at 10:00 am. However, the militants shelled the military and so flagrantly violated the terms of the breeding effort. On the framework agreement on the breeding of the parties, at the site where it should occur, must be maintained to silent mode during the week. But the terrorists not only at night but at 9 am, after the opening of KPVV, fired two grenades.
In the Village Lugansk fighters a second time disrupted the process of withdrawing troops
TSN. 19:30
Today, 20:03
Add to favourites
Our soldiers remained in their positions. The militants disrupted the process of removal for the second time. Just tonight opened fire with grenade launchers. Under the agreed framework, on three sites – Bogdanovka, gold and the village of the Luhansk – the Ukrainian army and the terrorists must simultaneously move away from its position a kilometer deep. But under the condition of silence for seven days.
The OSCE mission unemotionally inspected the new funnel, and traditionally refused to comment on the spot. Their reports by the observers are published on the website 2-3 days after event. However, the military APU they said that breeding is postponed to 15:00. "We are ready for the challenge, but we see that the militants from the other side led by their leaders do nothing for that" – said one soldier with the Callsign "dragon".
The decision day was adopted in Kiev. The order to abolish breeding, had not yet been spelled out in the agreement requirements, came to the front. Ukrainian soldiers continue to protect the Village of the Luhansk.
The TSN reporter Eugene Nazarenko
Comments
comments