Putin may act unpredictably: WikiLeaks said Clinton to the President of the Russian Federation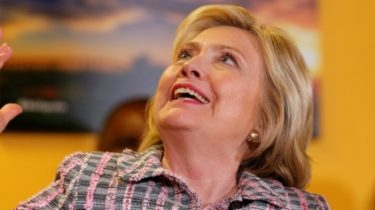 Putin may act unpredictably: WikiLeaks said Clinton to the President of the Russian Federation
© Reuters
Clinton called Putin "an interesting person".
The candidate in US presidents from Democratic party Hillary Clinton, who said during the election campaign about his intention to confront Russian President Vladimir Putin has repeatedly spoken positively of him.
As reported by Fox News, shows the e-mails of the head of her election headquarters of John Podestà, another part of which was published by the website WikiLeaks.
In particular, as follows from the letters, in June 2013 during a speech before the leadership of Goldman Sachs Clinton, at that time already left the post of U.S. Secretary of state, expressed hope for closer cooperation with the President of the Russian Federation.
In may of the same year Clinton during the meeting with the top management consulting Agency Sanford Bernstein called Putin "an interesting person". "I was sitting next to him.
In October 2013, during a speech to the United Jewish Fund of Chicago, the former Secretary of state said that the Russian President can act unpredictably.
See also: trump's Rating have fallen dramatically after the debate with Clinton
We will remind that earlier the candidate in US presidents from Democratic party Hillary Clinton expressed concern about "reliable data" about the Russian intervention in the election process and accused his Republican opponent of Donald trump's "obsession with dictators", to which she brought, and the President of Russia Vladimir Putin.
Network undermined the movie dirty dancing from Hillary Clinton and Donald trump
TSN. Pdsmi day
Today, 00:51
Add to favourites
The network blew up the video in which presidential candidates the United States is allegedly sing the soundtrack for an American film. The song in the video of the debate imposed on the Internet users. Youtube star Duo has collected more than 2 million views, and Facebook – 77 million. There are already adapted Ukrainian version of the speech.
Comments
comments