Savchenko has publicly acknowledged that recently visited the stadium and talked with the militants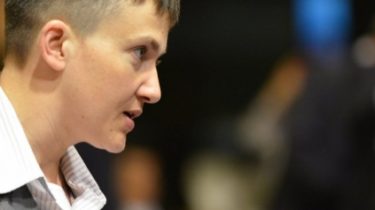 Savchenko has publicly acknowledged that recently visited the stadium and talked with the militants
Nadezhda Savchenko© UNIAN
She convinces that she felt the change in their attitude.
People's Deputy of Ukraine Hope Savchenko, speaking in the session hall of the PACE, said that he recently visited the occupied territories and talked with people who kept her in captivity.
It is reported by the European truth.
Read also: Savchenko criticized Gerashchenko for delaying negotiations on a prisoners
"I was in the occupied territory quite recently and, oddly enough, talked with those who held me captive," said the member of PACE.
She also said that were able to communicate with the "D/LC" in detail so that I felt the change in their attitude.
"70% of people and even those who held me captive, I regret that they took up arms," – said Savchenko.
Earlier, the Donetsk journalist Alexey Matsuka said that Savchenko tried to get to Donetsk a few weeks ago, "paths" through Krasnogorovka for a meeting with Zakharchenko. Savchenko in response, denied his words, and said that generally it was not in the area of ATO.
On a date with the Kremlin's prisoner: what actually Hope Savchenko
Classified material
3 Oct, 12:55
Add to favourites
Nadiya Savchenko, on hunger strike, giving interviews to the Pro-Kremlin journalists, she called for dialogue with the militants and it is called the Kremlin spy. She fights for the release of prisoners of war and for that, she applauded. Many do not believe a word of it, and many increasingly see her as the heroine. The journalist of "Secret materials", invited Nadezhda Savchenko out.
Recall that in June Savchenko said that the need to hold direct talks with "DPR" and "LPR". She said she was ready to personally talk with the leaders of the terrorists Alexander Zakharchenko and Igor Carpentry.
Comments
comments