We can't talk about elections in Donbass – Steinmeier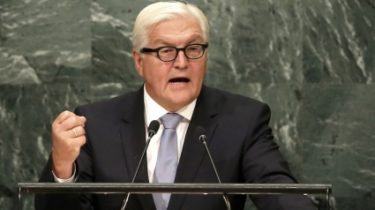 We can't talk about elections in Donbass – Steinmeier
© Reuters
He also stressed on the need for negotiations on a political package of the Minsk agreements.
There is no reason to speak about the presence of all necessary conditions for holding elections in the Donbass, but the parties must remain in the negotiation process to create them.
This was stated by the head of the Ministry of foreign Affairs of Germany, the OSCE Chairperson Frank-Walter Steinmeier, responding to PACE in the hall on the question of the head of the Ukrainian delegation Volodymyr Aryev, reports "European true".
"You're right, now is not necessary to speak about conditions for elections, but this does not mean that we should not work on them," declared the Minister.
He also noted that it is necessary to continue this work, "sparing neither time nor effort."
"And I hope we will have time and effort to arrange the law that allowed the holding of elections", – he added.
Steinmeier also stressed on the need for negotiations on a political package of the Minsk agreements.
"In the political pack two or even three documents – the law on the special status, Amnesty, and elections…Yes, now we can't talk about the elections, but we must remember that we also have no alternative to the Minsk agreements", – he said.
Earlier, German foreign Minister Frank-Walter Steinmeier expressed satisfaction with the agreements of the Tripartite contact group on the dilution of forces and means in the area of ATO.
Steinmeier called the agreement "a new tool for calming the situation on the line of confrontation." According to the Minister, the first three points will be a starting point for further breeding forces across the line of contact.
The diplomat believes that this requires not only political will, but also the commitments even in the absence of ironclad guarantee. Steinmeier is convinced that the implementation of the Minsk agreements is not enough just stable peace, but without him on the line of confrontation is to move towards a political settlement.
Comments
comments