Exploration captures the advance of the militants in the area of Water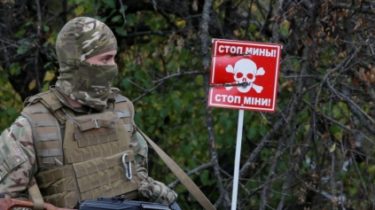 Exploration captures the advance of the militants in the area of Water
© Reuters
On the Mariupol direction ATO the enemy has achieved some success.
The militants are intentionally delaying the process of withdrawal of military equipment and manpower near the village of Lugansk, and at the same time trying to shift the responsibility for the breakdown of agreements on this issue in Ukraine. This is emphasized in the message of the Main intelligence Directorate of the defense Ministry.
Movement of occupation troops in Luhansk direction intelligence calls demonstrative. There are reinforce the combat power of the terrorist groups and continue to fire on positions of the APU.
Restless and in other areas of the ATO. Thus, the Ukrainian intelligence received information about the use of 82-mm and 120-mm mortars and 122-mm and 152-mm artillery systems near Mariupol – in the Water and Shirokino. "As a result of fire fighting units 1 infantry battalion 9 infantry regiment, separate assault Marines (Novoazovsk) 1 AK (Donetsk) of the armed forces took up positions near the settlement Vodyanoye. Fire cover was provided by the crews of the mortar battery, bronzegruppe from the battalion and sniper pair", – stated in the message.
Now, according to defense Ministry data, in the area of Water is observed the increasing firepower of the insurgents and equipment captured by the boundaries of its engineering specialists. "During the day the enemy forces were focused on maintaining the combat readiness of troops. To the highest degree of combat readiness were given of the duty crews of 3 separate infantry brigade (Gorlovka) 1 AK (Donetsk) of the armed forces. The command of the armed forces continued logistical support of subordinate formations and units 1 and 2 AK from Russia. Station Rovenki displaced seven tanks with fuels and lubricants (350 tons)," say the scouts. Existing evidence already given to the representatives of special monitoring mission of the OSCE.
Militants foiled another attempt of breeding troops in Stanitsa Luganskaya
TSN. Pdsmi day
Today, 00:53
Add to favourites
The next attempt of the troops in the Village Lugansk – again unsuccessful. Militants for the second time broke the joint agreements in the three settlements synchronously to move away from their positions a kilometer deep. And the enemy is not only takes equipment, but also shoot does not stop.
Comments
comments