Popular front will not vote for a "special status" of Donbas – Gerashchenko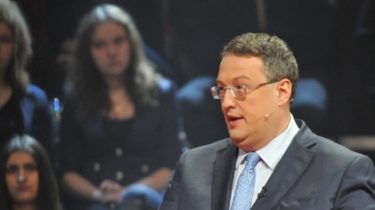 Popular front will not vote for a "special status" of Donbas – Gerashchenko
© The right to Vlad
In Parliament no majority under the law.
Faction "popular front" will not vote for changes to the Constitution necessary for the provision of special status of local self-government to the occupied areas of Donbass.
About this on air of the talk show "Right to Vlad," said the Deputy of Frazee Anton Gerashchenko.
"A constitutional majority in the Verkhovna Rada. it is not. But changes to the Constitution necessary for decentralization, they must be considered separately from "special status" Donbas," – said the Deputy.
See also: "They do": Biden is convinced that Ukraine will give special status to the Donbass
Also Gerashchenko pointed out that the law on Amnesty of militants that was adopted by Parliament on 16 September 2014, is suspended and will not apply.
Popular front will not vote for the special status of the Donbas – Gerashchenko
Policy
Today, 00:21
Add to favourites
The people's Deputy Anton Gerashchenko says that his faction would not vote for the special status of Donbass. According to the Deputy, this question was raised and discussed only in order to deceive the Russian side and to gain time.
July 16, the Verkhovna Rada of Ukraine adopted and sent to the constitutional court the draft amendments of the Constitution which provides more powers to the regions, their financial independence and special status of the occupied territories of Donetsk and Lugansk regions. The meeting came President Petro Poroshenko, the then Prime Minister Arseniy Yatsenyuk and US Ambassador to Ukraine Geoffrey Pyatt and U.S. Deputy Secretary of state Victoria Nuland.
The constitutional proposals have aroused the discontent of the coalition – factions of the "Samopomich" and "Radical party". In their opinion, the adoption of amendments will lead to a social collapse of the state and the influence of the militants and the Kremlin policy of Ukraine.
The solution after heated speeches were made. Voted 288 deputies.
According to project regions in space are transmitted to financial instruments and powers. Is canceled, the Institute of heads of administrations. In addition, the operational governance is vested in the Executive committees of local councils, which will control appointed by the President, the prefects.
The Russian foreign Ministry has criticized the draft of constitutional changes on decentralization in Ukraine. In their opinion, changes are contrary to the Minsk agreements. The Russian foreign Minister Sergei Lavrov said that the Constitution of Ukraine should be agreed with the Donetsk and Lugansk militants. In turn, the leaders of "LNR" and "DNR" also reacted negatively to popravki.
Comments
comments