The Donbas militants use the "silent mode" for improving combat readiness – Tymchuk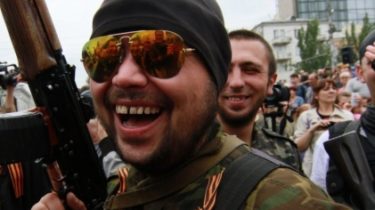 The Donbas militants use the "silent mode" for improving combat readiness – Tymchuk
© UNIAN
Terrorists conduct exercises together with the military of the Russian Federation.
"Silent mode" the militants of the so-called "L/DNR" actively used to enhance the combat readiness of subordinate units.
About this on his page in Facebook the people's Deputy Dmitry Tymchuk.
"On October 12-13 in the "DNR" passed command-staff exercise "1-St of AK DNR" using "MGB DNR", "MIA DNR" and other "government agencies", also, the teachings involved the personnel of the "Donetsk higher military command school". Formally supervised exercise "defense Minister DNR" Vladimir Kononov," – said the MP.
Read also: Russia in the Donbas recruited more than 600 mercenaries for fighting in Syria – GNSU
He noted that in the process of the exercises under the guidance of Russian "advisers" action worked capture the areas controlled by Ukraine, conducting sweeps and the identification of "Pro-Ukrainian elements" in captured towns.
In addition, previously, 5-8 October, in the course of exercises on the ranges of the unit "1-St of AK DNR" practiced "crossing water obstacles with a foothold for further development of the offensive".
According to the MP, similar exercises were held in the "2-m AK LC".
"In particular, for testing the action offensive with the crossing of water barriers (designated as a "counter-offensive", the defence was not considered at all) were involved about 4 thousand local militants, Russian mercenaries and servicemen of the armed forces, and more than 1 thousand units of weapons and military equipment. Operations of infantry, armored and artillery units of the covered units of the air defense, manned by the armed forces of the Russian Federation", – reported in group "Information resistance".
We will remind that earlier usedaevice for the second time disrupted the process of withdrawal of forces deep into each side. Ukrainian soldiers remained in their positions in the Village of Lugansk. On the eve on the presidential level, it was determined to begin withdrawal at 10:00 am. However, the militants shelled the military and so flagrantly violated the terms of the breeding effort. On the framework agreement on the breeding of the parties, at the site where it is to be held should remain on silent mode during the week. But the terrorists not only at night but at 9 am, after the opening of KPVV, fired two grenades.
Comments
comments