The Georgian delegation did not vote in PACE for the Ukrainian resolution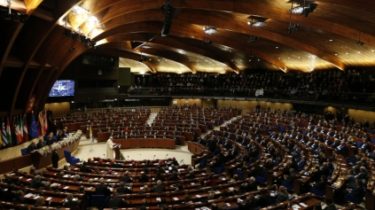 The Georgian delegation did not vote in PACE for the Ukrainian resolution
© Archive
This is evidenced by the results of the vote are published on the PACE website.
The Georgian delegation has not supported the PACE resolution on Ukraine.
This was on a private page in Facebook wrote the former Deputy attorney General David Sakvarelidze.
"To my great regret, and even I dare say, shame, learned today that the Georgian delegation, consisting of deputies from the ruling coalition, Bidzina Ivanishvili, did not support the Council of Europe resolution on Ukraine", – he said.
The politician considers it a shame for the current government of Georgia and apologized to the Ukrainians for such a vote.
Read also: Poroshenko commented on the approval of the PACE resolution on Ukraine
Recall that the Ukrainian delegation to PACE has made all nauwalabila mentions two resolutions on Ukraine, namely: "the extension of sanctions against Russia to restore the full sovereignty of Ukraine, condemn the illegal elections in Crimea, the ban of the Mejlis, the rejection of the appeal to accept the Russian Federation in the Assembly, in spite of everything, the release of prisoners" and the like.
This was announced by the Chairman of the Ukrainian delegation to PACE Vladimir Aryev.
"Even in the title replaced "conflict in Ukraine" to "Russia's aggression in Ukraine", – he said. According to Aryev, "without exception, all speakers, even favorable to Russia, in fact, admitted in their statements that trouble Ukraine has brought Russia".
He added that the Ukrainian team will continue to do everything possible to keep the PACE to fight with the influence of the Russian lobby.
PACE said about the responsibility of Russia for what is happening in the so-called "DNR" and "LNR"
TSN. Wounds
Yesterday, 12:48
Add to favourites
The parliamentary Assembly of the Council of Europe adopted two resolutions condemning the Russian aggression in Ukraine. Everything that happens in the so-called DPR and LPR, Russia is legally responsible because it controls the territory – the document says. The elections in the Donbass PACE impossible.
Comments
comments