The Ministry of justice finally commented on the need for recovery of Ukraine 6.3 million UAH in favor of Yanukovych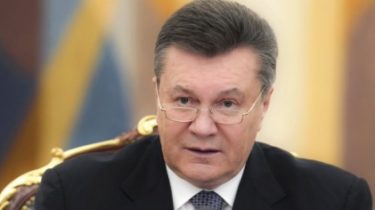 The Ministry of justice finally commented on the need for recovery of Ukraine 6.3 million UAH in favor of Yanukovych
© UNIAN
The statements of the lawyers of Yanukovych in office called manipulation.
The Ministry of justice for the first time commented on the obligations of Ukraine to pay UAH 6.3 million to former President Viktor Yanukovych.
This is stated in the message vdata.
"Now there are no decisions of foreign courts or decisions of the General Court of the EU, the European court of justice concerning the collection of any money from Ukraine in favor of Yanukovych or his family. The application of the lawyers of Yanukovych about alleged recovery of Ukraine of funds in favor of the ex-President is nothing more than manipulation of public opinion," it says.
The Ministry confirms that on March 15 the representatives of Yanukovych filed in the General court of the EU petition for the determination of the amount of legal costs that are reimbursable.
"The message that a court in the European Union allegedly has obliged Ukraine to compensate for claims and expenses in the amount of 378.4 million 6 thousand UAH Yanukovych and his family in on the appeal entered against them by the European Union property sanctions completely untrue," the statement reads.
Moreover, Yanukovych has not proved before the court any fact of incurring damage in connection with the application of Ukraine about the support applied against it sanctions the EU nor the amount of such damages.
The Ministry of justice stress that Ukraine cannot be obliged to pay any amount in favor of Yanukovych and his family and has enough legal tools for the proof of this position in all judicial institutions.
See also: Ukraine appealed to the EU Court regarding compensation Yanukovych
Yesterday, 13 October, it became known that the European court of justice of Ukraine rejected an appeal against the decision on the reimbursement of its legal costs the former President of Ukraine Viktor Yanukovych and his sons. This was stated in a law firm Joseph Hage Aaronson.
Yatsenyuk told when Yanukovych decided to disperse the Maidan
TSN. 16:45
Yesterday, 17:21
Add to favourites
Preparations for the dispersal of the Maidan in February 2014 began immediately after the meeting of Viktor Yanukovych with Putin. About this today during the interrogation in the General Prosecutor said former Prime Minister Arseniy Yatsenyuk. He interrogated the last of the three leaders of the national resistance headquarters.
Comments
comments