France 24 showed a report about the participation of Russia in the war in the Donbass and provocations by militants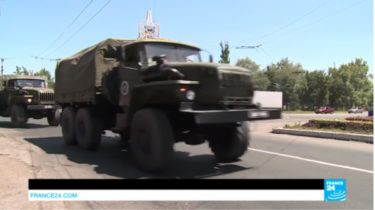 France 24 showed a report about the participation of Russia in the war in the Donbass and provocations by militants
ATO
Today, 22:31
1 of 3

© France 24

1 of 3

© France 24

1 of 3

© France 24
© France 24

© France 24

© France 24
The video recorded the presence of Russian military equipment in Eastern Ukraine.
French TV channel France 24, funded by the government, yesterday, 14 October, was dedicated to the war in the Ukrainian Donbass 17-minute story.
The video showed the presence of Russian military weapons and equipment in the occupied East. Also showed a recording of the conversation between the militants, who agreed to simulate attacks on its own positions by the Ukrainian military. One of them says (video 2 min 35 sec.) that, they say, will put fighters in the form of Ukrainian military and no one will understand.
Read also: Poroshenko said about the involvement of the "gray cardinals" of Putin in an attempt to capture Kharkov
"All things in the story are called by their names. In fact, it is a recognition of the Russian occupation. In the West, talking about it more openly. Western journalists who have the opportunity to work and to remove the "DNR" and "LNR", it is possible to do good stories. Of course, to conceal Russian participation in this war is impossible, because Moscow's ears stick out from everywhere. The Russian presence not hide even the insurgents themselves", – wrote in Facebook the journalist Denis Kazansky, who lived before the occupation in Donetsk.
The report is supplied in English. But talk of fighters who sound Russian, well you can hear, because the translation of their words served subtitles.
Meanwhile, President Petro Poroshenko said that does not exclude full-scale invasion of Russia to Ukraine.
Comments
comments