In Central Kiev the member of the Embassy of Azerbaijan made a drunken accident – media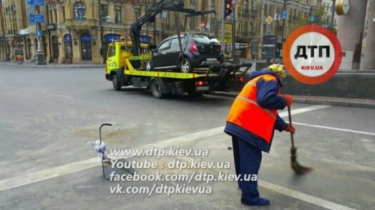 In Central Kiev the member of the Embassy of Azerbaijan made a drunken accident – media
Kiev
Today, 12:26
1 of 4

© dtp.kiev.ua

1 of 4

© dtp.kiev.ua

1 of 4

© dtp.kiev.ua

1 of 4

© dtp.kiev.ua
© dtp.kiev.ua

© dtp.kiev.ua

© dtp.kiev.ua

© dtp.kiev.ua
Mitsubishi Outlander driver flew into oncoming traffic, damaging two vehicles.
In the center of Kiev on Bessarabska square three cars got into a massive accident.
The incident occurred on the morning of Saturday, October 15.
See photos: Creepy frontal: in the capital had not missed two cars
The culprit was the driver of the car Mitsubishi Outlander, reports the publication dtp.kiev.ua. Trying at speed to turn off the Khreschatyk street on the Boulevard of Taras Shevchenko, he flew across the pavement into the road with oncoming traffic.
The result is a car damaged concrete hemisphere, rammed Renault and crashed into the Toyota. The driver of the Renault was seriously injured. The photos and video of damaged Renault.
According to the publication, driving a Mitsubishi was an employee of the Embassy of Azerbaijan – Deputy Ambassador, or the Ambassador himself. Also, according to eyewitnesses, the driver was drunk.
"The Boulevard was blocked. Worked doctors, rescuers, three patrol police. Rose kipezh. Arrived diplomats from Azerbaijan and even the SBU. Officially confirmed whether the intoxication of the driver of the Mitsubishi, it isn't known", – is spoken in the edition message.
Note that this is probably not the first accident involving employees of the Azerbaijani Embassy. On June 16, 2016, the media reported about the accident at the Postal square in Kiev, which allegedly car of the Embassy of Azerbaijan broke the car with a gas tank.
Comments
comments