In Kiev, famous Ukrainian DJ not admitted to the bar in uniform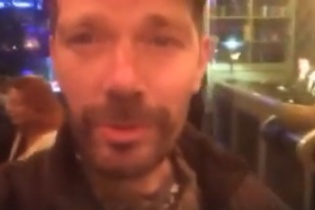 In Kiev, famous Ukrainian DJ not admitted to the bar in uniform
© Facebook/Anatoly Tapolsky
Anatoly Tapolsky was discharged from the army.
Famous Ukrainian DJ Anatoly Topolskogo not admitted to the bar opening "the Alchemist" in Kiev, because he was in uniform.
About this Tapolsky told on his page on Facebook.
"Not allowed to "the Alchemist" on the performance of Olga Lukachova. In the form are not allowed. Nice place," wrote DJ.
See photo: people's Deputy Leshchenko started Dating an attractive DJ
According to Topolskogo, he was in shape, because his civil things in the river – just a day before the incident, he was discharged. DJ was passing through Kiev on Sunday he would go to the Dnieper, to be on the account in military registration and enlistment office.
In the bar "Alchemist" in response to the incident, expressed "deep respect and sincere gratitude for the music of Anatolia Topolskogo".
"Thank you, what is music, though occasionally a bit to shake us and show that you don't have to live in a cage of other people's ideas about how things should be. Alchemists Express my deep respect and sincere gratitude for the music of Anatolia Topolska (Dj Tapolsky)", – stated in the message bar in Facebook.
Note that in the summer of 2015 DJ Anatoly Tapolsky announced its voluntary withdrawal of the army and since then he served in the part of the 3rd mortar battery in the ATO zone.
Comments
comments