The militants tried to parachute from the sea near Shirokino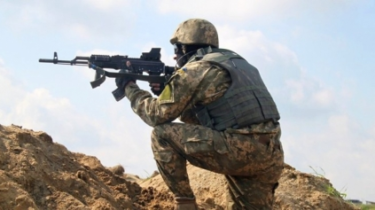 The militants tried to parachute from the sea near Shirokino
© Ministry of defence of Ukraine
Marines repelled a daring attack.
The southern section of the front of the ATO in recent days has become the hot. Now this is where the greatest power and frequency of the attacks, says the story TSN.19:30.
"Fire at positions of the mortars of 120-mi. Cannon firing – 152-s. For the fourth or fifth day," says the defender of Ukraine with the Callsign "Waha". The shells fall in Shirokino, Water, Lebedinsky, fly to Talakovka and even located a couple kilometers from the Eastern outskirts of Mariupol Berdyansk. "We just wanted to knock out our positions and started to fire," – said the fighter with a call sign "Wild".
Intelligence reports about the preparations for an enemy offensive in the area of Water
TSN. 19:30
Yesterday, 19:54
Add to favourites
In the result of fire fighting units of the naval infantry of fighters with assistance of the armed forces took positions near the settlement Water. Their cover was provided by the mortar battery, snipers and armored vehicles. The enemy continues to violate the ceasefire. The talakovka and Shirokino, on the eve gunmen opened fire from howitzers.
Not sitting idly by and enemy infantry. The Ukrainian military saying that Russians are, as a rule, on distance of several hundred meters. But it happens that they sneak up to a distance of 40 meters. However, the greatest danger APU soldiers see not the case, and in the sea. It is near Shirokino is one of the deepest on the coast, so it is possible to carry out the landing. Attempts a major operation the Russians did not commit, but militants on the boats the Marines already had to chase away from the shore with machine gun fire. The Ukrainians have already started to work on the beaches, forming a fence against a possible landing of the enemy on the APC.
Military "Maradona" has no doubt that the occupiers are not sorry for anything on Ukrainian soil. "If need be to level Shirokino to the ground – they do it without thinking," he says. The soldiers were already convinced that the only counterargument to this is power. Only when the terrorists will get nice – they are permanently silent. But while Ukrainian artillery is silent, observing the truce, the enemy of the merely impudent.
See also: Current ears and mock executions. As the militants tortured people in Donbass
As previously reported, the Ukrainian intelligence reported increased enemy in the southern direction in the Water. Subsequently, the army denied that the rebels took a new position. However, in the reports of the ATO that is the Mariupol sector of the front continued to be as the most hot.
The correspondent TSN Alexander Motor
Comments
comments